Publications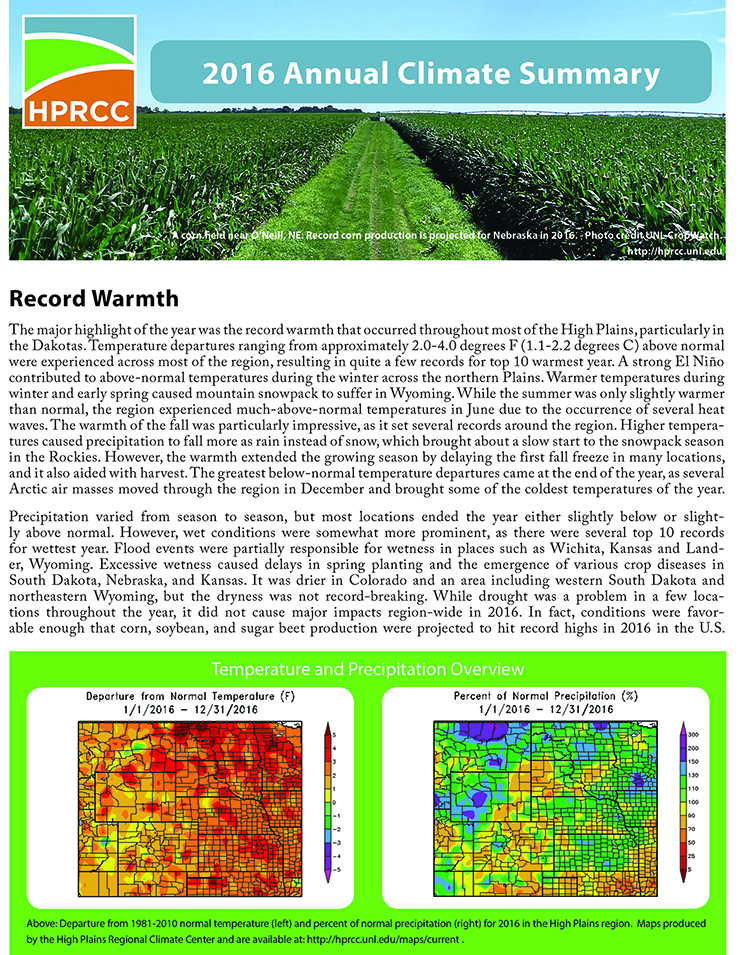 The High Plains Regional Climate Center recently released its first annual regional climate summary, covering climate conditions, data and rankings, and extremes events for the year 2016.
The center provided an overview of climate conditions for the year, as well as information and maps highlighting temperatures, precipitation, snowpack and streamflow, and drought. It also included a page dedicated to noteworthy climate events that occurred around the region during the year.
The National Drought Mitigation Center has announced the release of its first annual report and the unveiling of its new logo.
Over the last year, the drought center has worked on 24 projects and hosted or co-hosted 76 events in 15 countries, and partnered with 18 state and federal partners.
Arsiso, B. K., Tsidu, G. M., Stoffberg, G. H., Tadesse, T. (2018). Influence of urbanization-driven land use/cover change on climate: The case of Addis Ababa, Ethiopia. Physics and Chemistry of the Earth.
Aus Der Au R., Awada T., Battipaglia G., Hiller, J., Saurer M., and Cherubini P., 2018. Tree Rings of Pinus ponderosa and Juniperus virginiana Show Different Responses to Stand Density and Water Availability in the Nebraska Grasslands. American Midland N Online
Bayissa, Y. A., Maskey, S., Tadesse, T., van Andel, S. J., Moges, S. A., Van Griensven, A., Solomatine, D. P. (2018). Comparison of the performance of six drought indices in characterizing historical drought for the Upper Blue Nile Basin, Ethiopia. Geosci Online
Das Choudhury S., Bashyam S., Qiu Y., Samal A., and Awada T. (2018). Holistic & component plant phenotyping using temporal image sequence. Plant Methods. In press. Online
Demisse, G., Tadesse, T., Bayissa, Y. A., Atnafu, S., Argaw, M., Nedaw, D. (2018). Vegetation Condition Prediction for Drought Monitoring in Pastoralist Areas: A Case Study in Ethiopia. International Journal of Remote Sensing, 1-7. Online
Liu, T., Bruins, R. J., & Heberling, M. T. (2018). Factors Influencing Farmers Adoption of Best Management Practices: A Review and Synthesis. Sustainability, 10(2), 432. Online
McEvoy, J., Bathke, D., Burkardt, N., Cravens, A., Haigh, T., Hall, K., Hayes, M. J., Jedd, T., Poděbradská M., Wickham, E. (2018). Ecological Drought: Accounting for the Non-Human Impacts of Water Shortage in the Upper Missouri Headwaters Basin, Montan Online
Nam, W.-H., Tadesse, T., Wardlow, B., Hayes, M. J., Svoboda, M., Hong, E., Pachepsky, Y., Jang, M.-W. (2018). Developing the Vegetation Drought Response Index for South Korea (VegDRI-SKorea) to assess the vegetation condition during drought events. Intern Online
Wang, S., Zuo, X., Zhao, X., Awada, T., Luo, Y., Li Y., and Qu. H. (2018). Dominant plant species shape soil bacterial community in semiarid sandy land of northern China. Ecology & Evolution, 8(3):1693-1704. Online
S. D. Choudhury, S. Goswami, S. Bashyam, A. Samal, T. Awada. (2017). Automated Stem Angle Determination for Temporal Plant Phenotyping Analysis. ICCV, Computer Vision Challenges in Plant Phenotyping, Venice, Italy.