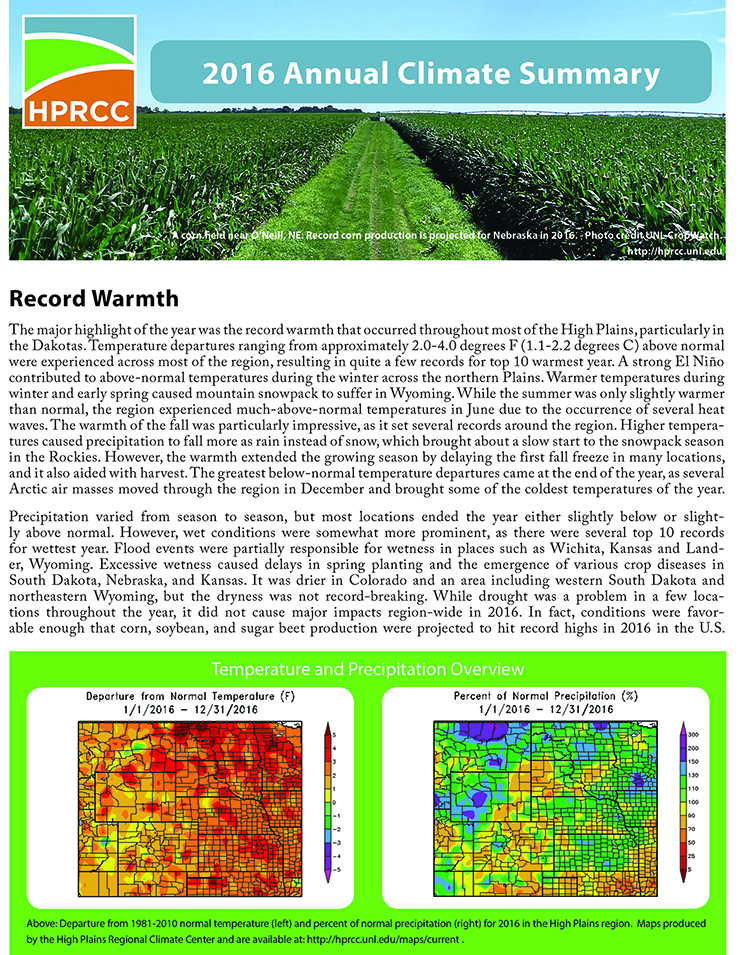 The High Plains Regional Climate Center recently released its first annual regional climate summary, covering climate conditions, data and rankings, and extremes events for the year 2016.
The center provided an overview of climate conditions for the year, as well as information and maps highlighting temperatures, precipitation, snowpack and streamflow, and drought. It also included a page dedicated to noteworthy climate events that occurred around the region during the year.
The National Drought Mitigation Center has announced the release of its first annual report and the unveiling of its new logo.
Over the last year, the drought center has worked on 24 projects and hosted or co-hosted 76 events in 15 countries, and partnered with 18 state and federal partners.
Awada, T., Skolaut, K., Battipaglia, G., Saurer, M., Riveros-Iregui, D., Schapaugh, A., Huddle J., Zhou, X., Martin, D., and Cherubini, P. (2019). Tree-ring stable isotopes show different ecophysiological strategies in native and invasive woody species of Online
Bai, G., Ge, Y., Scoby, D., Leavitt, B., Stoerger, V., Kirchgessner, N., Irmak, S., Graef, G., Schnable, J., Awada, T. (2019). NU-Spidercam: A large-scale, cable-driven, integrated sensing and robotic system for advanced phenotyping, remote sensing, and a Online
Bumann, E., Awada T., Wardlow B., Hayes M., Okalebo J., Helzer C., Mazis A., J. Hiller J., and Cherubini, P. (2019). Assessing Responses of Betula papyrifera to Climate Variability in a Remnant Population along the Niobrara River Valley in Nebraska throug Online
Das Choudhury, D., Samal, A., and Awada, T. 2019. Leveraging Image Analysis for High-Throughput Plant Phenotyping. Frontiers in Plant Science. doi: 10.3389/fpls.2019.00508 Online
Dashti, H., Glenn, N.F., Ustin, S., Mitchell, J.J., Qi, Y., Ilangakoon, N.T., Flores, A.N., Silván-Cárdenas, J.L., Zhao, K., Spaete, L.P., & Graaff, M.d. (2019). Empirical Methods for Remote Sensing of Nitrogen in Drylands May Lead to Unreliable Interpr Online
Fotelli, M.N., Korakaki, E., Paparrizos, S.A., Radoglou, K., Awada, T., Matzarakis, A., 2019. Environmental Controls on the Seasonal Variation in Gas Exchange and Water Balance in a Near-Coastal Mediterranean Pinus halepensis Forest. Forests 2019, 10(4), Online
Haigh, T., Schacht, W., Knutson, C., Smart, A., Volesky, J., Allen, C., Hayes, M. J., Burbach, M. (2019). Socio-ecological determinants of drought impacts and coping strategies for ranching operations in the Great Plains. Rangeland Ecology and Management. Online
Korus, J.T. and Howard, L.M., Maps showing the Physical Hydrogeology and Changes in Saturated Thickness (Predevelopment to Spring 2016 and Spring 2011 to Spring 2016) in the Middle Republican Natural Resources District, Southwestern Nebraska. University o Online
Young, A.R., Burbach, M.E., Howard, L.M., Waszgis M.M., Lackey, S.O., Joeckel R.M. 2019. Nebraska Statewide Groundwater-Level Monitoring Report 2018. University of Nebraska-Lincoln, Conservation and Survey Division, Nebraska Water Survey Paper 86, 24 p. Online
Amuti, T., Luo, G., Yin, G., Hu, S., Walter-Shea, E. (2018). Evaluation of a process-based agro-ecosystem model (Agro-IBIS) for maize in Xinjiang, Northwest China. Agronomy, 8.