Nebraska Elevation Data by County
Introduction
To download a Nebraska Elevation Data Set file, click on the county of your choice, either on the map or from the list of county names. Data is provided in ArcInfo grid format only and compressed in ArcInfo interchange format (e00).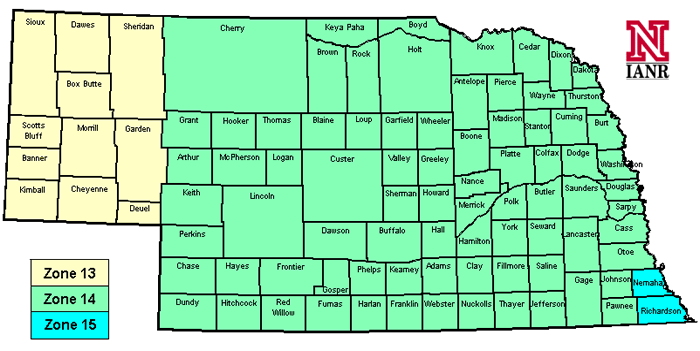 Nebraska Counites by UTM Zones
Nebraska County List
Data are in ArcInfo format and are provided by UTM zone by county, with a 1 Km buffer surrounding each county. Each UTM zone is setup as an ArcInfo workspace. The projection for all data on this CD is UTM using the North American Datum 1983 (NAD83) and the Geodetic Reference System 80 (GRS80). For complete information regarding the projection parameters, refer to the Nebraska Elevation Dataset Metadata document.
In addition to the DEM grids for each county, the outline and buffer covers for each county are also provided. The following naming convention has been used for all files:
| File Name | Example |
| --- | --- |
| countyname | lancaster (county outline cover) |
| countynamebuf | lancasterbuf (buffer cover) |
| countynamedem | lancasterdem (DEM grid) |
In addition to the county files, the outline and buffer covers as well as the DEM grid for the entire UTM zone are also provided.
| File Name | Example |
| --- | --- |
| zUTMzonecnty | z13cnty (county outline cover for UTM zone 13) |
| zUTMzonebuf | z13buf (buffer cover for UTM zone 13) |
| zUTMzonedem | z13dem (DEM grid for UTM zone 13) |