Wellness
Operational Committee
Wellness: An interactive process of becoming aware of and practicing healthy choices to create a more successful and balanced life style. The SNR Wellness team works within the bounds of the UNL Wellness program. This include programs and activities that fall into the "Dimension of Wellness":
Physical
Social
Spiritual
Intellectual
Financial
Cultural
Career
Environmental
Emotional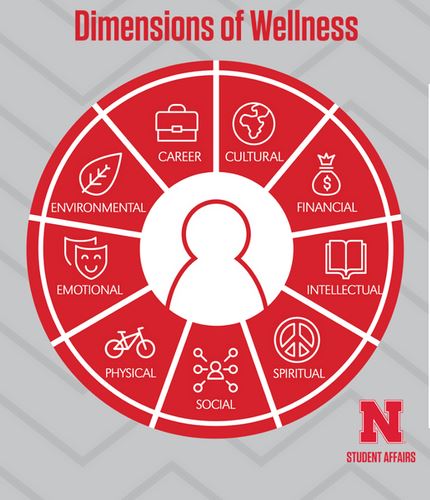 The committee will consist of at least three people: 1) a faculty member, 2) a staff member and 3) a graduate student represetnative. The committee will develop a yearly plan for the academic year of SNR-sponsored and UNL-sponsored activities.
Tingting Liu
(Chair)- 821 HARH , EC 0988 ; phone: 402-472-8121; FAX: n/a; E-mail:
tliu19@unl.edu
- [Term Expires: 2020]
Mark Mesarch
- 913 HARH , EC 0989 ; phone: 402-472-5904; FAX: 402-472-2946; E-mail:
mmesarch1@unl.edu
- [Term Expires: 2020]
Brendon Orr
- 810 HARH , EC 0988 ; phone: 402-472-8108; FAX: n/a; E-mail:
borr3@unl.edu
- [Term Expires: 2020]
Sarah Spier
- 248 HARH - Section 65 , EC 0962 ; phone: n/a; FAX: 402-472-2946; E-mail:
sarah.spier@huskers.unl.edu
- [Term Expires: 2020 - Graduate Student Rep]
Crystal Stiles
- 248 HARH - Section 65 , EC 0997 ; phone: 402-202-3320; FAX: n/a; E-mail:
cstiles3@unl.edu
- [Term Expires: 2020]
Crystal Stiles
(Chair)- 248 HARH - Section 65 , EC 0997 ; phone: 402-202-3320; FAX: n/a; E-mail:
cstiles3@unl.edu
- [Term Expires: open ended]