SNR Elevator Speech Contest
Preliminary Round: February 15, 2016
Final Round: February 25, 2016
The School of Natural Resources is working with NET television to broadcast the SNR Elevator Speech contest! Gregg Hutchison will tape the finals, and NET will broadcast it multiple times.
In Each Category:
$1000 for first place
$300 for second place
$200 for third place
$100 for fourth place
Overall People's Choice Award
If you have questions about the event, please contact:
The "elevator speech" comes from the business world, where a chance encounter with a potential investor, employer or other VIP on the elevator provides the opportunity to make a brief pitch about yourself or your idea. The SNR Elevator Speech Contest provides an opportunity to practice presenting your research to non-scientists.
Held in conjunction with the undergraduate and graduate Poster Contest sponsored by the SNR Graduate Student Association.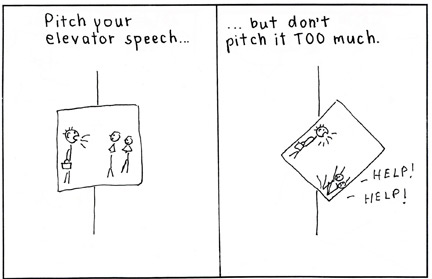 Katherine Lawry, Masters First Place
Dylan Tegtmeier, Undergraduate First Place