Beyond the Classroom
Botswana - South Africa: Wildlife Conservation
Returning in 2020
Get a first hand understand of the natural history of bush ecosystems and wildlife conservation in South Africa. Spend a month camping in the bush near the Okavango Delta in northern Botswana learning about wildlife, plants, and ecosystems of this unique country. This course in Botswana offers many opportunities and challenges for students interested in field conservation.
Namibia - Southern African: Wildlife Conservation
Discover and learn about the variety of ecosystems found in this southern African country. Visit landmarks like Etosha National Park, where students can see elephants, zebras and other large animals. Along the Namibian coast, students can sightsee as seals and whales swim in and near harbors.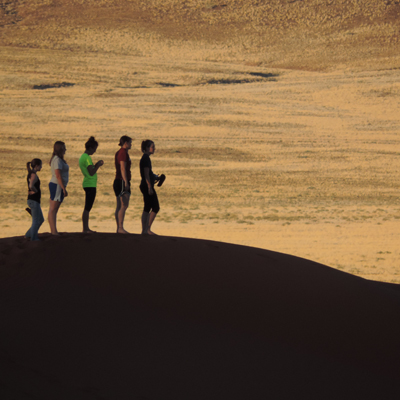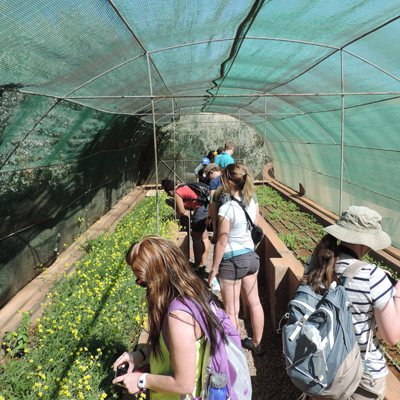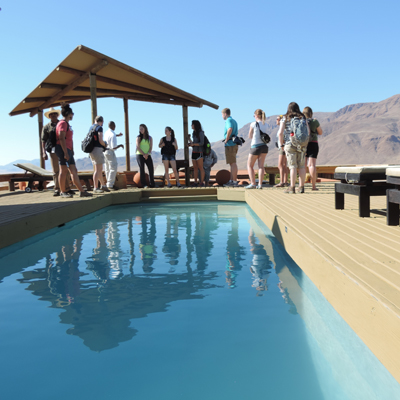 Italy - Sicily: Mummy Studies Field School
Students from four universities in three countries spent time learning about the field of mummy studies in Santa Lucia del Mela, a small community on the island of Sicily, Italy. The school was a collaborative effort among the Sicily Mummy Project, the Archdiocese of Messina, the Sicilian Region, the city of Santa Lucia del Mela, and the University of Nebraska-Lincoln. Students lived, worked and learned about mummies in an immersive setting. For their visit, they stayed in a former convent above a crypt housing both mummies and ossuaries.
Greece: Sustainability, Environment & Society
Spend two weeks discovering Greece's history, environment and agriculture, explore the unique ecosystems of Santorini and Crete, and understand the scientific and human dimensions of natural resource management, all while celebrating this country's rich cultural heritage.
Puerto Rico: Tropical Ecosystems
Locations: Puerto Rico
Fields of Study: Tropical Ecology
Program Highlights: Students will have the opportunity to experience the rain and dry forests, snorkel on a tropical reef and bioluminescent bay and explore the tropical rivers, underground caves and beaches of Puerto Rico. They will also visit research stations and interact with locals while observing the components of tropical ecosystems on a major island system.
Cedar Point: Right in our "backyard"
The University of Nebraska's Cedar Point Biological Station (CPBS) is a field research facility and experiential classroom. CPBS is located off campus in western Nebraska, near Lake McConaughy and the city of Ogallala. The station sits in the heart of the western high plains near the juncture of tall grass and short grass prairie, on the south edge of the Sandhills and the North Platte River valley. The success of the Cedar Point Experience draws on the wide variety of local habitats with an abundance and diversity of flora and fauna.
You'll get to visit the beautiful Nebraska Sandhills!
You'll have the opportunity to live in rustic cabins by serene Lake Ogallala.
Class are less lecture-based and more field-based, so you spend most of your days (and sometimes nights!) outside delving into field science!
Relationships with students, TAs, and professors form fast and strong.
You get to eat three meals a day with science-minded people from undergraduates to well-known scientists where you can discuss ideas.
Complete a 4 credit course in 3 weeks or 3 credit course in 2 weeks.
It's a really amazing experience!
Classes taught at CPBS can include: Ornithology, Biology, Ecology & Evolution, Field Epidemiology, Ecological Issues in the Great Plains, and Literature & the Environment.