Both solitary and colonial fossil corals have been known from Nebraska for probably 100 years. E. H. Barbour (1903) and Woodruff (1906) recorded the presence of these animals in Cass County. There are at least two important solitary coral beds to be found there---one is a more or less local bed in the Plattsmouth Limestone near Nehawka and the other is a bed in the Beil Limestone that extends from southeastern Nebraska to southern Kansas. These corals corals are fairly large in their adult stages and they appear to have preferred the shallow, warm water environments that are characterized by thick, bedded regressive limestone deposits. These can be compared to the coral species that lived in deep, cold water environments that are characterized by thin, dense limestone that formed in transgressive seas.
In 1966, Robert Schrott recorded a large concentration of corals from the Beil Limestone member of the Lecompton Formation. Gordon Baird 1n 1971 described and re-interpreted the coral horizon in the Beil Limestone. Baird reported that the corals from the Beil Limestone, in contrast to the corals from the Plattsmouth Limestone, covered a much larger area that extends from Cass County, Nebraska, into Mills and Montgomery counties, Iowa; Holt County, Missouri; and Doniphan, Atchison, and Douglas counties, Kansas. Unpublished fieldwork of Roger Pabian suggest that the Beil coral horizon extends into Greenwood County, Kansas.
Baird suggested that the proper orientation of the coral animal is with the point of the horn or cone extending into the soft substrate and the open end pointing upward into the water column. Many of the corals from the Beil Limestone have severe bends in the corallite. Baird interpreted this to mean that if a coral animal became tipped over on its side, the animal would reorient its growth such that the animals soft body in the opened end of the horn always pointed upward. Some corals may have two or three such bends after the initial direction of growth was established.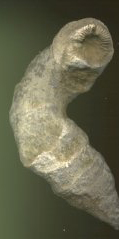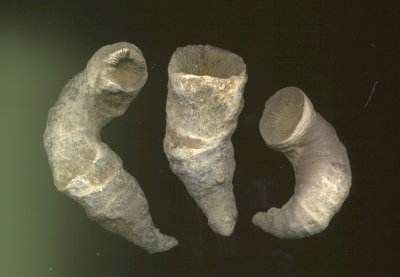 Corallites of Caninia torquia
Description: Corallites of "Caninia torquia" (Owen). Note the bends in the outer two examples. These bends suggest the coral oriented itself such that the calyx faced upward in the water column after the coral had been tipped over. Some examples may show several such bends.