Posted: 2/13/2023
Graduate Student Spotlight: Shetu Akter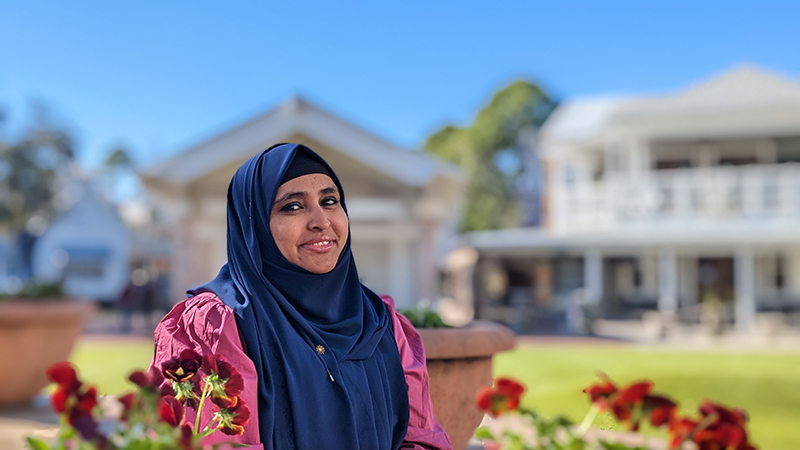 Shetu Akter is a first-year doctoral student of Natural Resource Sciences with a specialization in Climate Impact and Assessment at the School of Natural Resources – University of Nebraska. She hails from Sylhet in the southeast Asian country of Bangladesh, a city of about 500,000 people. The literacy level for women born in Bangladesh is around 70 percent. Shetu found fulfilment in STEM, shying away from art, commerce, and social sciences because she didn't want to "memorize definitions," according to her.
With a distinction from her master's degree in Geography at the Shahjalal University of Science and Technology, Shetu was offered a role as a lecturer by the same university. Having spent three years teaching at the university, she believes a PhD from UNL would help her grow and better deliver on the job at her alma mater.
How did you find out about UNL?
"A friend from my home country who resumed a semester earlier in the Chemistry Department here at the University of Nebraska informed me about the school. So, I went online and visited the website. It was user-friendly and had the necessary information I sought. I found a match for myself, then I sent an email to the department head. Today, the rest is history. That friend was quite instrumental."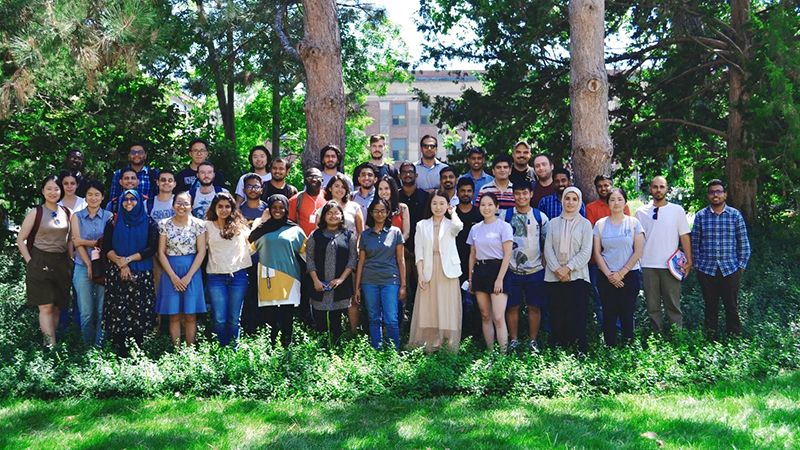 With the obvious differences between the US and your home country did you experience culture shock upon arrival at UNL?
"Culture shock? Not one whit!"
"I think I'm fortunate to have had a community of people from Bangladesh, India, Sri Lanka, and other neighbors to my home country present here. I won't be wrong to call it home away from home. Secondly, the people from Nebraska are naturally warm. I later came to understand there's a term called "Nebraska Nice." It explains the welcoming nature of the Nebraska people. You get that smile from strangers and begin to wonder where you had met them. "
"The aspect of food is a little different though, and that's due to my faith. I'm always looking for meals that are "halal" compliant. When I don't find any, I maintain vegetarian diets or go for fish. However, it's relieving to know that there are stores that make provisions for halal meat in major cities around the United States. Lincoln has a couple of them which we patronize. But Omaha has a lot more. "
How do you cope with the cost of living in Lincoln?
"I'll gladly use my case as an example to illustrate how inexpensive life in Lincoln can be. "
I'm here with my husband, and we have just one source of income – my assistantship. That single source of earning caters for all our needs. Truly, Lincoln offers a very affordable lifestyle to families. In comparison to other cities, the cost of living in Lincoln is very reasonable. "
"Students can easily commute from one end of the East campus to the other end of City campus without owning a vehicle. The bus transport system is unrivalled. Buses arrive early on schedule, and they're very comfortable. There's no pressure to own a car. "
"I won't fail to mention the ease with securing housing. There are multiple housing opportunities close to the campuses and they're quite affordable. "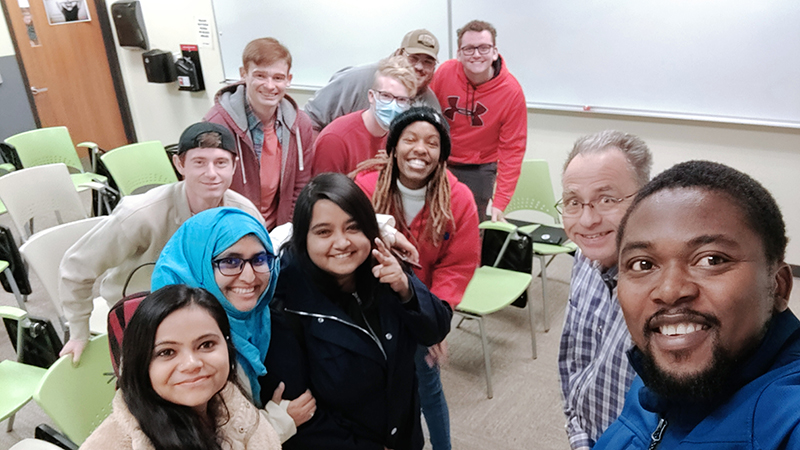 Do you find Lincoln exciting or boring?
"From my encounter, Lincoln has a mix of exciting activities and a tranquil environment. It's perfect for students. The International Student and Scholar Office (ISSO) of Global Nebraska also makes sure that students get a lot of opportunities for fun activities at the start of each semester. I came in during the Fall of 2022 and I was treated to several beautiful events well put together by the university. Secondly, my department - SNR ensures that students have smooth relationships with their professors by creating opportunities for monthly hang outs called 'First Friday'. There are other fun events from time to time. "
"Also, we have groups that focus on international students. The International Students Fellowship (ISF) is one of such and it treats students to monthly dinners. Each occasion is uniquely packed with lots of side attractions that keep us looking forward to the next one. We've had trips to tourist attractions within Nebraska and to neighboring states organized by ISF at ridiculously low rates. Having been to other interesting states, I've come to acknowledge that Lincoln-Nebraska has a unique type of appeal to me. I'm loving it. "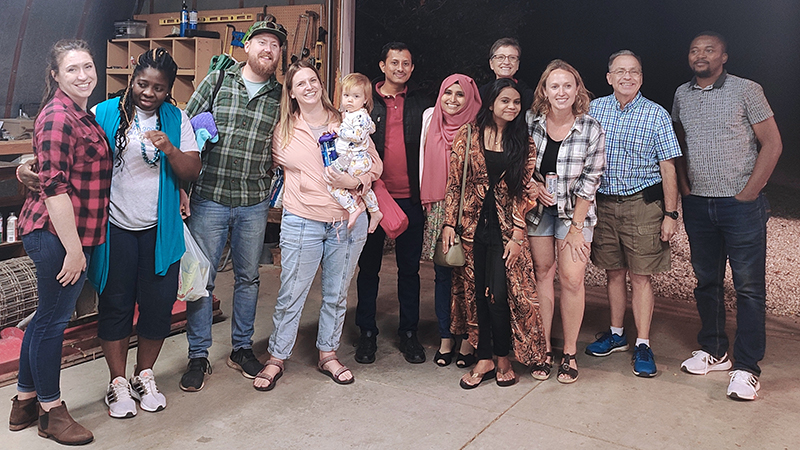 How are you getting along with the weather?
"I come from a tropical country where the least temperature we know all year round never goes below 12 degrees Celsius. That's above 53 degrees Fahrenheit. In sharp contrast, here in Lincoln, I've not only encountered snow for the first time in my life, but I've also seen temperatures go as low as minus 25 degrees Celsius! Then it gets scary when the weather is both windy and super cold. But I'm still here, and others have weathered more difficult terrains. So, I'll get by. "
You wear the Hijab; that's a sign of religious freedom, right?
"Yes. I don't feel any form of discrimination over my faith. I'm a Muslim and I'm accepted here. It's very warm to see groups willing to absorb me. The classroom isn't an exception. Islamophobia doesn't exist anywhere around me in Lincoln - Nebraska, and I'm happy to state that clearly. "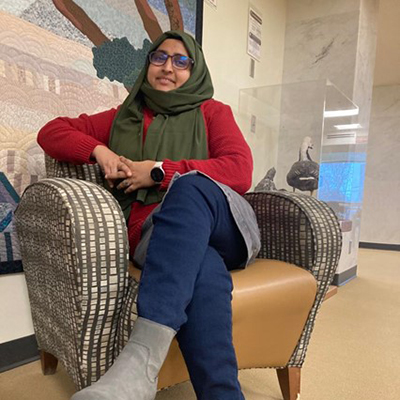 Have you enjoyed any form of support while navigating the demands of your studies?
"Yes. A lot of support came from my parents while I was growing up. For my dad, he had promised never to interfere in my choice of career. Rather, he was quick to offer any form of support I needed at the time. I still miss him like a little girl misses her dad. It's interesting to note that my dad is unable to speak with me over the phone whenever it's a video call. The last time he did, we both wept. So, he avoids video calls. Now that I'm married, my husband is doing everything to be my number one fan. He cheers me on as I pursue my dreams, and he shows me the highest standard of care. He has been a great support system – very understanding, and always willing to offer any form of assistance I demand of him. "
How did you meet your spouse?
"Though not popular in the US, in Bangladesh and other Southeast Asian countries, over 90 percent of the marriages are arranged by parents and other matchmakers. My case was different though. My dad allowed me the liberty to follow my heart. I met my spouse in university. We became more than acquaintances over time, and the thought of marriage was seamless. We have been married for four years. "
Did you face any form of language barrier to your studies here at UNL?
"The teaching methods and illustrations applied by our professors make learning relatively easier. The official language back in Bangladesh is Bengali. English was only taught as a compulsory subject. So, I had to put in extra effort. It was natural to assume transitioning wouldn't be easy. However, that hurdle is now behind me. I made all A's in my first semester. Like I said, the professors endeavor to carry everyone along. Deliberate inclusion seems like an unwritten code. "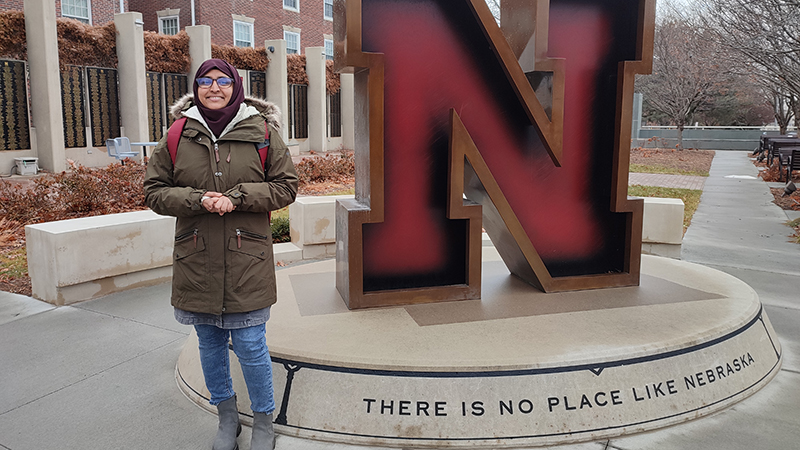 After your doctoral program, what's next for you?
"I'm on study leave from my position as a lecturer at the Shahjalal University of Science and Technology in Bangladesh. So, the knowledge I'm acquiring here will be used to enhance my teaching experience in my home country. That for me is the immediate target. I need to give back to the society that groomed me. "
by Jerome Okojokwu-Idu