Posted: 8/24/2019
Brown leaves behind an inspirational legacy of conservation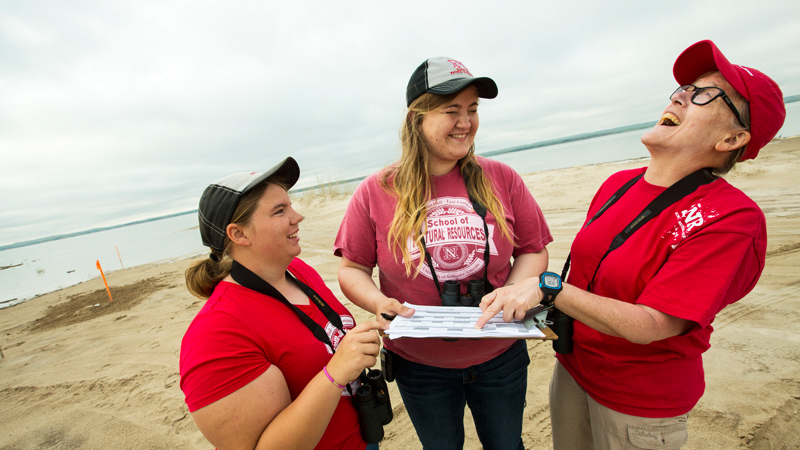 Mary Bomberger Brown, associate professor of practice at the School of Natural Resources and coordinator of the Tern and Plover Conservation Partnership, died of complications from cancer on Aug. 24, 2019, in her home in Lincoln. She was 62.
Her contributions to conservation, especially with endangered bird populations, and to the science of avian biology will have a lasting impact on the state and region.
Bomberger Brown, a Nebraska native, started at the University of Nebraska-Lincoln as an undergraduate student in Biological Sciences ― at a time when few women pursued scientific degrees ― and graduated in 1979 with a bachelor's degree with distinction. She went on to earn her masters in biological sciences from Nebraska in 1982, before taking research associate positions at Princeton University, Yale University and then University of Tulsa.
As a researcher, she was integral to the success of the Cliff Swallow Project conducted at Cedar Point Biological Station in western Nebraska for more than 35 years, helping coordinate the student workers, capturing birds, recording their details and banding their legs. Data collected from the long-term study, still ongoing today, is considered to be the largest in the world.
In 1996, Bomberger Brown co-wrote "Coloniality in the cliff shallow: The effect of group size on social behavior," which has been cited in innumerable research papers since its publication. Her work in cliff swallows also earned her a shared Elliot Coues lifetime achievement award from the American Ornithologists' Union in 2009 for extraordinary contributions to ornithological research.
In 2011, Bomberger Brown earned her doctorate in applied ecology from SNR, and promptly became a research assistant professor. She was promoted to associate professor of practice in 2017.
As the tern and plover program coordinator, her work was dedicated to bridging the gap between sand and gravel miners and state and federal regulatory agencies to create dedicated habitat and support conservation efforts for the endangered least terns and plovers.
"She continued to band plovers and terns, and was delighted when she received reports and photos of plovers from Nebraska on their wintering beaches to the south," said Larkin Powell, her colleague at SNR and a close friend. "Mary also contributed to work on secretive marsh birds and investigations of wind energy effects on greater prairie-chickens."
Over the course of her career, Bomberger Brown earned no fewer than six notable national awards, but she rarely — if ever — spoke of them. She also authored more than 160 scientific papers; had her research featured in more than 200 articles, news releases, television stories or nature documentaries; mentored more than 100 student field researchers; and personally advised 24 undergraduate and graduates students in their pursuit of higher-ed degrees.
"When I think of Mary, I think of how much she selflessly cares," said Amy Oden, who Bomberger Brown advised from 2011 to 2013. "When I was a graduate student, she strived to make my work, and by extension my skills as a researcher and writer, better. Her teaching method was always positive; I never once saw any disappointment from her. Instead, my research gained more aspects and my scientific writing became proficient enough to be publishable with her help.
"Long after I graduated and was no longer her student, she still kept in contact with me over coffee or tea," she added. "Years beyond being my graduate advisor, she continues to advise me on life, work, and people."
Bomberger Brown felt shared knowledge was important. She avidly worked to engage the public on conservation issues, working with the Platte River Time Lapse project, providing resources to teachers across the state, giving educational tours during the annual Sandhill Crane migration, and even supporting the after-school program at Irving Middle School in Lincoln. Until March of this year, she attended every meeting of the Chimney Swift Club, a collection of Irving students who advocated for ― and won — saving the school's chimney from remodeling efforts in 2015 so it could remain a roosting spot for the swifts that live there. The club continues to thrive, fostering partnerships with those who care about birds and nature.
"She is the reason that the Chimney Swift Club was such a great success," said Deanna Hughes, a recently retired Irving Middle School science teacher and friend. "Mary inspired and touched so many young lives — and some not so young, including mine."
Some of those lives include those of scientists across the University of Nebraska-Lincoln. In 2015, Bomberger Brown advised the launch the Association of Women in Science chapter at SNR. This led the university to become an institutional member of the national Association of Women in Science in 2017, furthering its commitment to advancing women's equity and inclusion on campus.
"Throughout her career, she quietly demonstrated the value of female scientists," Powell said, "and Mary is among those cited by professional societies as influential women in ornithology and ecology."
In 2013, she was named a fellow in the American Ornithologists' Union, a prestigious award given only to those who have given exceptional and sustained contributions to ornithology or to the organization.
John Carroll, director of SNR, said Bomberger Brown will remain among the elite in her contributions to science in her field.
"Mary loved her work in conservation and avian biology, but that was just part of her," he said. "She loved SNR, UNL, Lincoln, and Nebraska." She is the model, he said, of how to live a life worth living.
Powell adds that his research career and his life would not have been the same without the influence of Bomberger Brown's mentorship and friendship.
"What an impact she provided for conservation, for biology, for ecology, and for her community of friends and colleagues," he said. "We will all miss her terribly, but I imagine the birds will miss her most of all."
Bomberger Brown was born on April 11, 1957. She is survived by her brother, David Bomberger, of Denver, Colorado; one niece; and numerous relatives, colleagues and friends.
A memorial service for her is being planned for Oct. 8; additional details are pending at this time.