Posted: 6/17/2020
Incoming fisheries and wildlife Change Maker wants to improve accessibility in outdoor spaces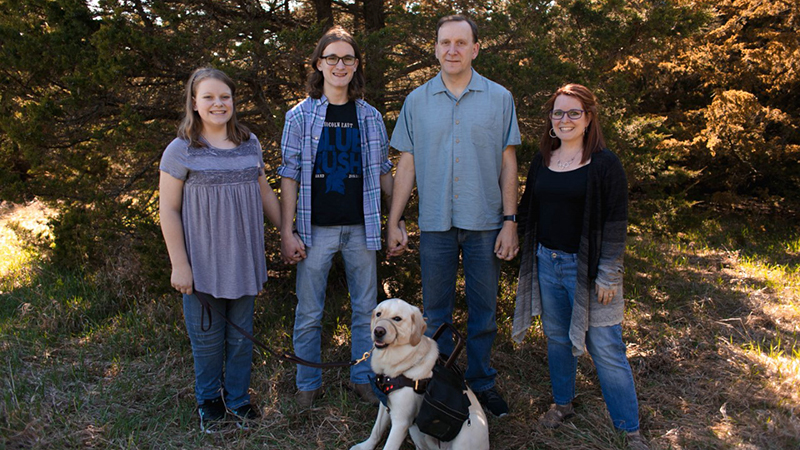 When Alex Lautenschlager saw a Facebook post about the UNL CASNR Change Maker competition, the incoming School of Natural Resources fisheries and wildlife freshman didn't have to brainstorm about a world-improving idea that he could work on during his time in college. He'd been thinking about it for years.
Lautenschlager's sister Lily uses a wheelchair, and when his family goes on road trips, whether to wheelchair basketball tournaments or nearby lakes to kayak, the conversations often turn to how accessible a place they visit is for her.
"And sometimes, we have to change our plans because we can't even get my sister into a place, like restaurants, " he said. "We often talk about what that company could do to help make it accessible, and typically it's not a huge change and it would allow so many people to enjoy that space. "
In Lautenschlager's Change Maker video, he focused on improving accessibility in the spaces he's going to be studying, the outdoors.
"My family and I go on a lot of outdoor adventures, but a lot of times we run into these small, but frustrating, obstacles, " Lautenschlager says in the video. "You see, my sister is a lot like the rest of us. She loves the outdoors and going on hikes. The problem is, not all of the areas are wheelchair-friendly, and she uses her chair to explore these areas. My idea for the Change Maker competition is to try and make as many parks and recreation areas wheelchair friendly. "
In his video, Lautenschlager highlighted two ways he'd improve many of the areas his family has visited — Designing wheelchair-accessible hiking paths that feature cement or wood chip surfaces instead of gravel or sand, and installing paths to wheelchair-friendly picnic tables. Lautenschlager's project was one of eight chosen by the CASNR Change Maker judges. (You can see a list of all winners here.) The eight winners received a year's tuition and the promise to pair up with mentors at UNL who will help them bring their ideas to fruition.
"Even the smallest change in a walking path could have a huge impact on a person who has a disability and their family, " Lautenschlager said. "That family would be able to participate without taking any extra steps to enjoy the same path you and I would. Without the mentor and this scholarship, my idea would just be that, an idea inside of my head. In general, this scholarship will definitely help me to help others. It also helps me accomplish my goal of coming out of college with the least amount of debt possible. And personally, I'm really excited to get my sister involved in more outdoor areas where she can be successful, too. "
To view his Change Maker-winning video, go to: bit.ly/3hA8YkA .