Featured Publication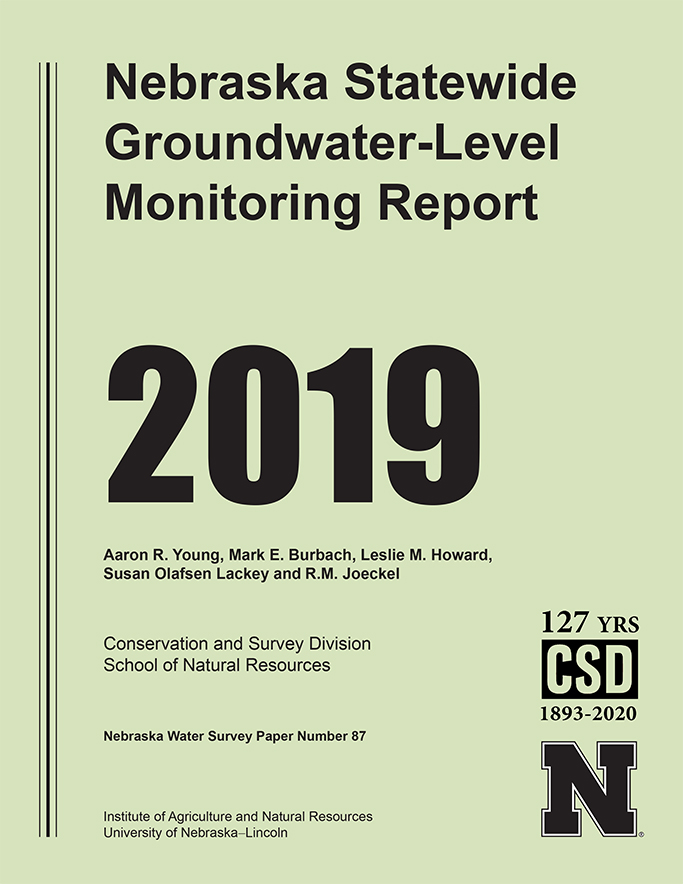 Recent Publications
Joeckel, R. M., Korus, J. T., Turk, J. K., Arps, C. C., Arps, N. V., Howard, L. M. (2022). Strange stones of Skull Creek: Basalt glacial erratics and omars in eastern Nebraska. Great Plains Research, 32, 1-20. https://www.unl.edu/plains/publications/GPR/gpr.shtml
Young, A.R., Burbach, M.E., Howard, L.M., Lackey, S.O., Joeckel R.M., 2021, Nebraska Statewide Groundwater-Level Monitoring Report 2021. University of Nebraska-Lincoln, Conservation and Survey Division, Nebraska Water Survey Paper 90, 25 pp. Online
Airori, A. J., Baker, T., Turk, J. (2021). The Impact of Sampling Methodology on Soil Bulk Density Measurement by the Clod Method. Communications in Soil Science and Plant Analysis, 1-10
Crago, R., Szilagyi, J., Qualls, R. (2021). Comment on "Complementary principle of evaporation: from original linear relationship to generalized nonlinear functions" by S. Han and F. Tian. Hydrology and Earth System Sciences, 25, 63-68. Online
Crago, R.D., Szilagyi, J., Qualls, R. 2021. A Review of the Complementary Principle of Evaporation: from the Original Linear Relationship to Generalized Nonlinear Functions. Hydrology and Earth System Sciences. 25:63-68. Online
Czap, N., Czap, H., Lynne, G., Burbach, M. Farm Bill 2013: An experimental investigation of conservation compliance. Applied Economic Perspectives and Policy.
De Figueiredo Silva, F., Perrin, R. K., Fulginiti, L., Burbach, M. (2021). Does engagement improve groundwater management? Water Economics and Policy, 7(2), 1-32. Online
Delozier, J., Burbach, M. (2021). Boundary spanning: Its role in trust development between stakeholders in integrated water resource management. Current Research in Environmental Sustainability, 3, 1-10. Online
Eaton, W. M., Brasier, K. J., Burbach, M., Whitmer, W., Engle, E. W., Burnham, M. (2021). A conceptual framework for social, behavioral, and environmental change through stakeholder engagement in water resource management. Society & Natural Resources, 34, 1111-1132. Online
Eger, G.Z., Silva, J. G., Marques, E.A.G, Leão, B.R.C., da Rocha, D.G.T.B., Gilmore, T. (2021). Recharge assessment in the context of expanding agricultural activity: Urucuia Aquifer System, western State of Bahia, Brazil. Journal of South American Earth Sciences. Volume 112, Part 1, 103601.
Maps and Publications
The primary outlet for obtaining Conservation and Survey Division and School of Natural Resources' maps and publications is our store, Nebraska Maps and More.
Store Hours:
Monday through Friday
8:00 am - noon and 1:00 - 5:00 pm
Closed weekends and major holidays.
Location:
Location iconSchool of Natural Resources
University of Nebraska-Lincoln
101 Hardin Hall
3310 Holdrege Street
Lincoln NE 68583-0961