Drought Related Resources
U.S. Drought Monitor - NDMC
Tracking drought blends science and art. No single definition of drought works for all circumstances, so people rely on drought indices to detect and measure droughts. But no single index works under all circumstances, either. That's why we need the Drought Monitor, a synthesis of multiple indices and impacts, that represents a consensus of federal and academic scientists. The product will be refined over time as we find ways to make it better reflect the needs of decision-makers and others who use the information.
Website: http://droughtmonitor.unl.edu/
Source: National Drought Mitigation Center (NDMC)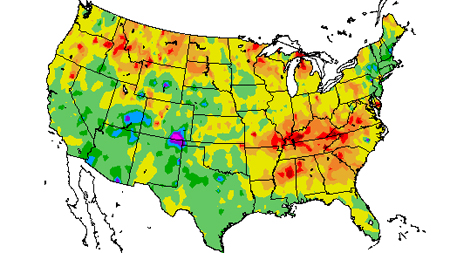 Automated Weather Data Network (Soil Moisture) - HPRCC
The Nebraska Soil Moisture web page allows access to graphical displays of recorded soil moisture for each depth and year, and calculated root zone volumetric water content for each year. Sensors are placed at 10, 25, 50, and 100 cm below the surface at 51 AWDN stations.
Website: Coming Spring 2016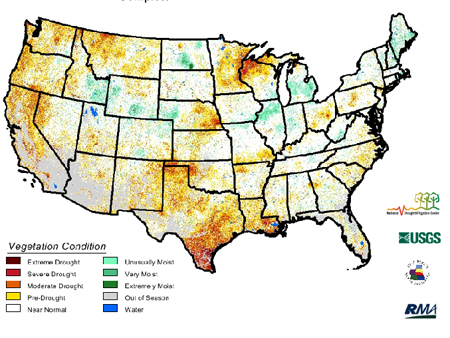 Vegetation Drought Response Index (VegDRI) - NDMC
The National Drought Mitigation Center produces VegDRI in collaboration with the US Geological Survey's (USGS) Center for Earth Resources Observation and Science (EROS), and the High Plains Regional Climate Center (HPRCC), with sponsorship from the US Department of Agriculture's (USDA) Risk Management Agency (RMA). Main researchers working on VegDRI are Dr. Brian Wardlow and Dr. Tsegaye Tadesse at the NDMC, and Jesslyn Brown with the USGS, and Dr. Yingxin Gu with ASRC Research and Technology Solutions, contractor for the USGS at EROS.
VegDRI maps are produced every two weeks and provide regional to sub-county scale information about drought's effects on vegetation. In 2006, VegDRI covered seven states in the Northern Great Plains (CO, KS, MT, NE, ND, SD, and WY). It expanded across eight more states in 2007 to cover the rest of the Great Plains (NM, OK, MO, and TX) and parts of the Upper Midwest (IA, IL, MN, and WI). VegDRI expanded to include the western U.S. in 2008 (WA, ID, OR, UT, CA, AZ, NV). In May 2009 VegDRI began depicting the eastern states as well, covering the entire conterminous 48-state area.
The VegDRI calculations integrate satellite-based observations of vegetation conditions, climate data, and other biophysical information such as land cover/land use type, soil characteristics, and ecological setting. The VegDRI maps that are produced deliver continuous geographic coverage over large areas, and have inherently finer spatial detail (1-km2 resolution) than other commonly available drought indicators such as the U.S. Drought Monitor.
Website: http://vegdri.unl.edu/
Source: National Drought Mitigation Center (NDMC)
Drought Impact Reporter - NDMC
The National Drought Mitigation Center developed the Drought Impact Reporter in response to the need for a national drought impact database for the United States. Drought impacts are inherently hard to quantify, therefore there has not been a comprehensive and consistent methodology for quantifying drought impacts and economic losses in the United States. The Drought Impact Reporter is intended to be the initial step in creating a comprehensive database. The principal goal of the Drought Impact Reporter is to collect, quantify, and map reported drought impacts for the United States and provide access to the reports through interactive search tools.
The need for the Drought Impact Reporter and its comprehensive database becomes clear when one considers that drought is a normal part of the climate for virtually all portions of the United States. In addition, all evidence suggests that the impacts of drought are increasing in magnitude and complexity. A risk management approach to drought management, which strongly emphasizes improved monitoring and preparedness, requires more timely information on the severity and spatial extent of drought and its associated impacts. Improved information on drought impacts will help policy and decision makers identify what types of impacts are occurring and where. In addition, the Drought Impact Reporter will aid them in understanding the magnitude of the impacts by providing access to reported drought impacts. More precise estimates of drought impacts will aid the government in instituting programs before drought occurs, as opposed to incurring high expenditures on post-drought relief.
Website: http://droughtreporter.unl.edu/
Source: National Drought Mitigation Center (NDMC)