Meet Yvon Ukwishaka
Yvon Ukwishaka is my name, and I am proud to call Musanze, located in the Northern Province of Rwanda, my hometown. With a population of almost a million and a half, Musanze is a bustling district, with over 90 percent of the people involved in agriculture. The community boasts of a unique natural feature, the Virunga National Park, which is situated north of the town. This magnificent park is home to some of the world's last remaining mountain gorillas and attracts tourists worldwide. Musanze offers plenty of options for dining out and nightlife to unwind after a hard day's work. You will find a rich variety of local cuisine and international dishes served in the many restaurants and cafes around the town. Additionally, plenty of ATMs to withdraw cash from ensure you have enough money during your stay.
The dream.
As a ten-year-old, I witnessed my mother's battle with malaria, which nearly claimed her life. It was a harrowing experience that profoundly impacted me, and I decided to become a medical doctor to help others in similar situations. Seeing how doctors were highly respected in the community compared to the average farmer made me realize that this was the path I wanted to take. In Rwanda, where over seventy percent of the population relies on agriculture, it's easy to notice how doctors stand out. I grew up in the Musanze region, where subsistence farming is the norm. I saw firsthand how much time and effort my relatives put into farming, yet they earned only trivial incomes that could barely sustain them. While my family was better off than most households, we didn't make significant profits from the maize venture we were into, and I wouldn't say I liked the idea of relying on farming as my sole source of income. I thought becoming a medical doctor would allow me to save many lives, and I also wanted to bring honor to my family name.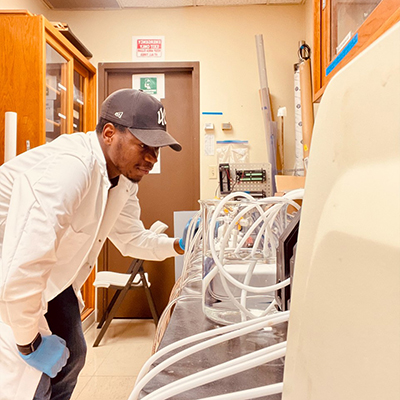 A twist of fate.
After high school, I got the chance to study abroad through the CUSP scholarship scheme, which is a program run by the government of Rwanda in partnership with the Howard G. Buffett Foundation. However, the scholarship was designed to study conservation-based agriculture at the University of Nebraska-Lincoln (UNL). During my undergraduate program at UNL, I discovered my interest in agriculture, which kept growing. How the lectures were delivered played a significant role. My journey as an undergraduate also involved a seven-week internship at Nebraska College of Technical Agriculture (NCTA), an essential part of our program. The internship gave me practical exposure to agriculture. I then developed a keen interest in the agricultural sector.
As a master's student, I am researching the prevention of underground water contamination caused by excessive use of fertilizers. This is a significant concern in my community and the United States. As a researcher, I can recommend policies and apply decision-based technologies to prevent groundwater pollution from agricultural practices, potentially benefiting many people in my local community. I plan to introduce nutrient management practices, modernized farming, and advanced monitoring tools to large-scale agriculture in my community. This can significantly impact people's lives in my community, and I am excited to see how it will turn out. 
My research.
My research is centered around the Earth's vadose zone, which is the thin layer of the Earth extending from the land surface to groundwater. Specifically, I am looking at the impact of reactive nitrogen species and heavy trace metals, their transformation, and how anthropogenic activities impact their transformation to protect groundwater resources. It's a fortunate coincidence because most previous studies have used the vadose zone as a monitoring tool.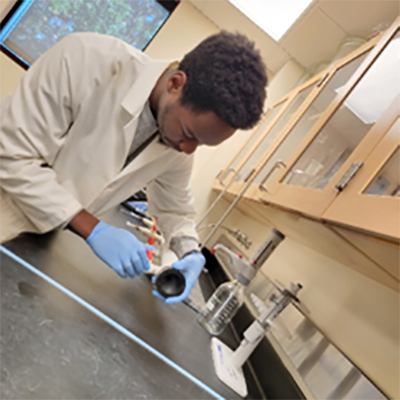 Life in UNL.
I love my life at UNL as I spend countless hours in front of both my desktop and laptop screens in pursuit of meeting deadlines and have exemplary deliverables in both classes and research projects.
Nevertheless, amidst these challenges, my experiences have been a blend of positive and negative ones. My parents instilled in me the belief that hard work won't harm, and it's always heartwarming to witness recognition for one's efforts. The satisfaction I derive from delivering presentations at seminars is beyond words. I thrive on those moments when my dedication is acknowledged and rewarded, exemplified by my recent achievement of winning the People's Choice Poster Award at the 2023 Water for Food Global Conference. Over the last two years, I have presented at multiple conferences and national symposiums, including the 2022 Water and Integrated Cropping Systems (WICS) Conference and Water Smart Innovation (WSI) Conference 2022. For this year only, I have presented my research project papers orally at the American Chemical Society national symposiums (Spring and Fall 2023). I have spoken about various topics, including inorganic nitrogen species and their impact on uranium mobilization in the vadose zone.
In my line of duties, using packages such as ArcGIS, remote sensing, modeling, cracking Python, R-studio, and Arduino has been handy in dispatching my responsibilities as a research assistant. I never knew I could be so skilled in handling several software programs, but the exposure I got from UNL has been invaluable. Throughout my academic journey, I have been fortunate to have instructors guide me; from choosing the right combination of courses to taking the first steps in research. While some instructors have impacted me since my undergraduate days at UNL, my advisor, Dr. Arindam Malakar, has significantly impacted my journey as a graduate student. His guidance has been instrumental in shaping my career path.
To balance work and life on campus, I have taken up playing volleyball to stay fit. I am an active member of the SNR volleyball team and plan to become even more involved in the department. Despite enjoying steaks and mashed potatoes, I miss my traditional African cuisine. I listen to Central See's uplifting songs to relax, which help me unwind and ease my mind.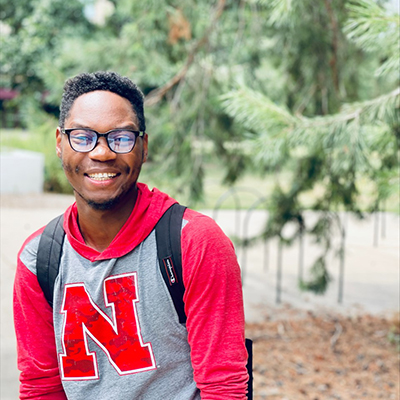 The future.
Becoming a researcher is a natural and fulfilling choice for me. It is my passion. Pursuing this path will allow me to make meaningful contributions to my field of study and make a difference globally.
Links to my work:
–by Jerome Okojokwu-Idu, SNR Graduate Student