Pronghorn Resource Selection in Nebraska's Agriculturally Dominated Landscape
Main Speaker: Katie Piecora
MS Graduate Student , University of Nebrasks-Lincoln | School of Natural Resources | AWESM Lab
Date: 8/30/2022
Time: 2:00 PM
Location: Zoom Webinar (Check with Andy Little, alittle6@unl.edu for information)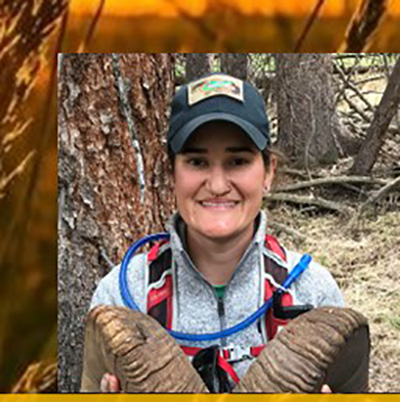 Abstract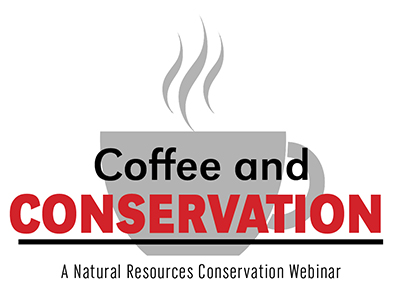 Video
Mountain lion research in California: implications for wildlife conservation and management in the 21st century
Main Speaker: Justin Dellinger
Carnivore Biologist , UC Davis School of Veterinary Medicine | Karen C. Drayer Wildlife Health Center
Date: 9/7/2022
Time: 3:30 PM
Location: 107 South (Auditorium) Hardin Hall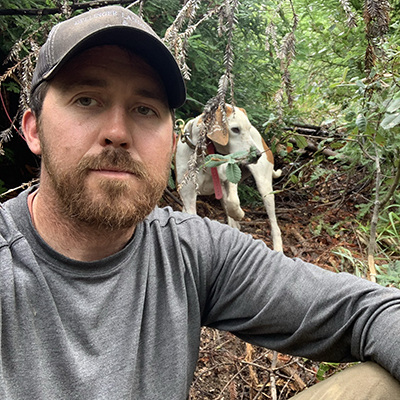 Abstract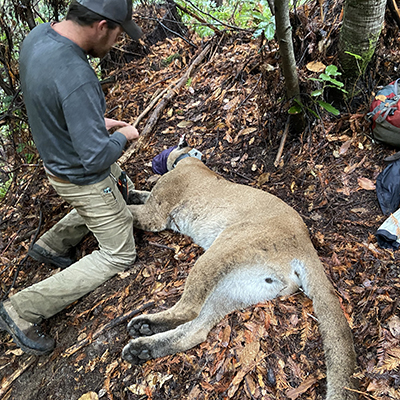 Increasing human populations and expanding development across the globe necessitate progress in monitoring populations and understanding factors limiting population persistence. California has the largest human population of any state and yet half of the state is considered suitable mountain lion habitat. The juxtaposition or intertwining of a large human population, with extensive development, and areas that support large carnivores creates many unique conservation and management challenges. Ensuring viable mountain lion populations exist in such a situation requires an in-depth understanding of multiple aspects of mountain lion ecology as well as mountain lion-human interactions. Aspects of mountain lion genetics, demographics, habitat use and connectivity, and conflict and coexistence will be discussed as well as how these issues relate with one another. This overview will help provide material for thoughtful consideration of topics such as what metrics are sufficient for determining the conservation status of a wildlife population.
Speaker's Bio
I'm originally from western North Carolina and grew up in the Appalachian Mountains. I've done research on red wolf ecology and gray wolf-prey interactions as part of MS and PhD. I have also worked as a biologist for different tribes doing large carnivore work. More recently, I worked for CDFW for 6 years, where I was the large carnivore researcher for the state. Now, I work for UC Davis as a large carnivore biologist. On a personal side, my wife Nikki and I have been married 14 years and we have 3 pretty cool kids (Jude – 11; Sadie – 8; and Adah – 5). We're all still adjusting to California!
Speaker's Contact Information
Email
Video
Why Soils Matter
Main Speaker: Rabi Mohtar
TEES Research Professor , Texas A&M University and American University of Beirut
Date: 9/14/2022
Time: 3:30 PM
Location: 107 South (Auditorium) Hardin Hall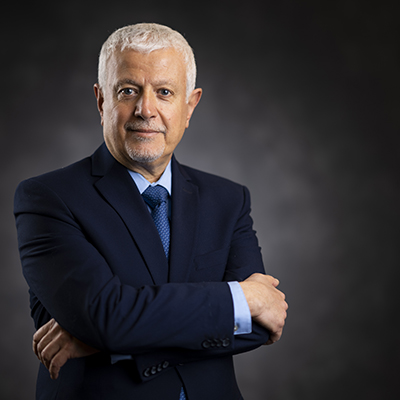 Abstract
The presentation will introduce the global water and food security challenges, the interconnectedness of the water-energy-food-health system and shed light on soils as a key system to achieve water-energy-food-health security. The presentation will discuss applications of the "pedostructure" - a concept based on soil water thermodynamics- to soil and water management including water reuse and the impact of nontraditional irrigation water on soil structural properties using a thermodynamics and accurate characterization of soil/ water dynamics. The quantification of soil water properties such as permanent wilting point and field capacity will lay the foundation for precision irrigation and soil management practices. Concluding remarks will address the future challenges in water and food security and ways in which soil can play a role in those targets.
Speaker's Bio
Professor Rabi H. Mohtar, Department of Biological and Agricultural Engineering and the Zachry Department of Civil and Environmental Engineering at Texas A&M University. Mohtar's research focuses on global resource challenges and the development of a Water-Energy-Food Nexus framework for linking science and policy; on characterizing the soil-water medium using thermodynamic modeling and the efficacy of non-traditional water, and on applications for sustainable integrated water management such as implementation of the Sustainable Development Goals (SDGs). Mohtar serves as a Governor of the World Water Council and is an Executive Board member of the International Water Resources Association (IWRA), a Distinguished Alumnus of the American University of Beirut (AUB), Senior Fellow at the Policy Center for the New South, and a Fellow of the American Society of Agricultural and Biological Engineers. He founded the Texas A&M Water-Energy-Food Nexus Initiative (2015) and served as dean of the Faculty of Agricultural and Food Sciences (2018-2021) at the AUB, where he also established the Water-Energy-Food-Health Nexus Renewable Resources Initiative (WEFRAH). While at Purdue University (1996-2014), Mohtar was the inaugural director of Purdue's Global Engineering Programs (2008) and a founding member of Purdue's Division of Environmental and Ecological Engineering (2006). In 2011, he founded the Qatar Environment and Energy Research Institute. Throughout his career, Mohtar has received a number of awards. Most recently, he received the PRIMA WEFE Nexus award and was honored at the American Chemical Society Division of Environmental Chemistry Symposium. He received the 2010 Kishida International award and was inducted as an ASABE Fellow in 2018.
Speaker's Contact Information
Email
Video
Apologies
The quality of the video's audio of Rabi Mohtar's seminar was not acceptable and the close captioning could not be salvaged. Therefore the video is not available.
Reproductive Conservation: Top 10 Ways to Improve Breeding Success
Main Speaker: Kari Morfeld
Reproductive Physiologist &amp: Endocrinologist , Physiology Consulting Services
Date: 9/21/2022
Time: 3:30 PM
Location: Zoom Only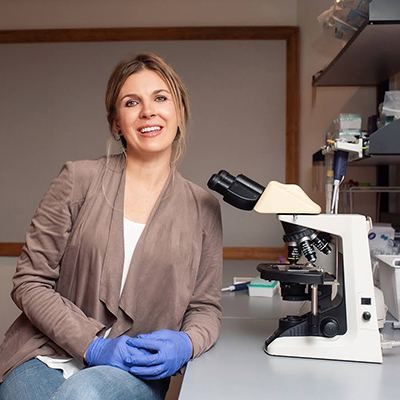 Abstract
Apologies
The speaker could not present their seminar on this date and hopefully it will be rescheduled soon.
Captive breeding practices serve as a tool to augment populations of threatened or endangered species; however, the success rates vary drastically across species, zoos, and the private sector in the US. Dr. Morfeld's presentation will discuss conservation research in these various sectors and highlight several opportunities to improve breeding success through adjustments in management practices, changes in husbandry, routine hormone monitoring, and reproductive evaluation. Case studies and data focused on African elephants and giraffes will be presented to address ways in which we can optimize reproduction. Additionally, Dr. Morfeld will touch on the challenges and advantages of working with conservation organizations both in the US and South Africa to compare breeding success between zoo-managed and free-ranging populations.
Speaker's Bio
Dr. Morfeld is a reproductive physiologist and endocrinologist based in Omaha, Nebraska. She is the founder and president of the non-profit organization, For Elephants Inc., and founder and CEO of Morfeld Research and Conservation, LLC. She serves numerous zoos, the private sector, and several government and conservation organizations through wildlife reproductive services and research. Dr. Morfeld mentors undergraduate and graduate students by providing unique opportunities in conservation and research in the US and through her elephant field program based in South Africa. Dr. Morfeld received her B.A. in Biology from Nebraska Wesleyan University and M.S. in Animal Science from University of Nebraska, Lincoln. For her dissertation, Dr. Morfeld studied body condition in zoo-managed African elephants with a concentration on the reproductive and metabolic health implications of poor body condition at George Mason University. Dr. Morfeld currently serves as the Chair for the AZA Reproduction and Endocrinology Scientific Advisory Group. Although the primary focus of Dr. Morfeld's research has historically been on African elephants, her organization currently monitors the well-being of a diverse number of species including giraffes, polar bears, dolphins, penguins, capybaras, chimpanzees, rhinoceros, European fallow deer, eland, bongos, water buffalo, and many more!
Communicating Precision Agriculture from a Conservation Specialist Perspective
Main Speaker: Morgan Register
R3 Hunting and Shooting Coordinator , The National Wild Turkey Federation
Date: 9/27/2022
Time: 2:00 PM
Location: Zoom Webinar (Check with Andy Little, alittle6@unl.edu for information)
Abstract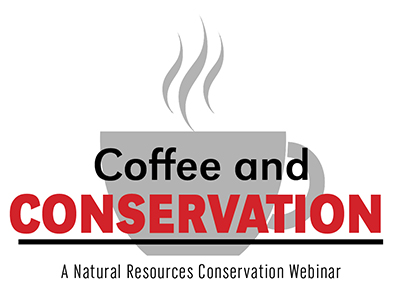 Field Guide to a Hybrid Landscape: Deconstructing Nebraska's Hand-Planted Forest
Main Speaker: Dana Fritz
Hixson-Lied Professor of Art , UNL | School of Art, Art History & Design
Date: 9/28/2022
Time: 3:30 PM
Location: 107 South (Auditorium) Hardin Hall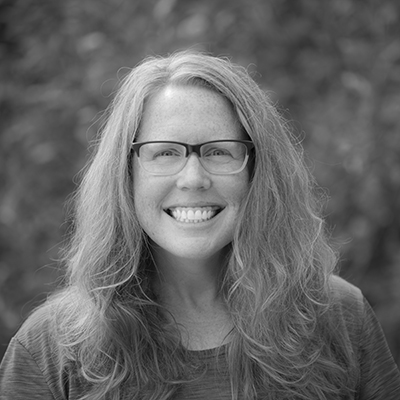 Abstract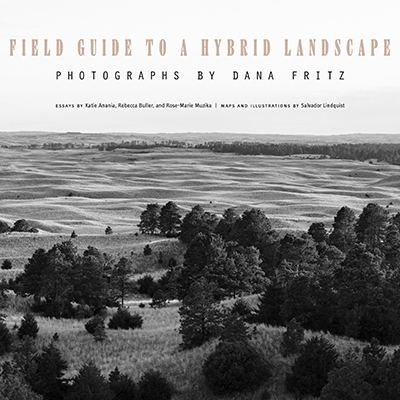 Dana Fritz will share photographs from her new book and exhibition, Field Guide to a Hybrid Landscape. Over five years she visited, photographed, and researched the forest and tree nursery as well as the history and ideas that drove what was once the world's largest hand-planted forest. This fascinating and little-known story is especially relevant to our current challenges with climate chaos and biodiversity collapse.
Speaker's Bio
Dana Fritz, Hixson-Lied Professor of Art at University of Nebraska-Lincoln, uses photography to investigate the ways we shape and represent the natural world in cultivated and constructed landscapes. Her work has been exhibited, published, and collected internationally. She is the author of Terraria Gigantica: The World under Glass (University of New Mexico Press, 2017) and Field Guide to a Hybrid Landscape (forthcoming from University of Nebraska Press in January 2023.) Coinciding with this book is an exhibition of her photographs from Nebraska's hand-planted forest at UNL's Great Plains Art Museum September 2, 2022 - March 11, 2023. Departmental Link
Social Media
Instagram: @danafritzphoto Facebook: https://www.facebook.com/danafritzphotography #fieldguidetoahybridlandscape #nebraskanationalforest #handplantedforest @unlart @unlarts @unlphoto @univnebpress @greatplains.unl
Speaker's Contact Information
Email
Climate, Climate Change and Big Weather: How are they related and how do we know?
Main Speaker: Deke Arndt
Chief , Climate Science & Services Division | National Centers for Environmental Information
Date: 10/6/2022
Time: 3:30 PM
Location: 107 South (Auditorium) Hardin Hall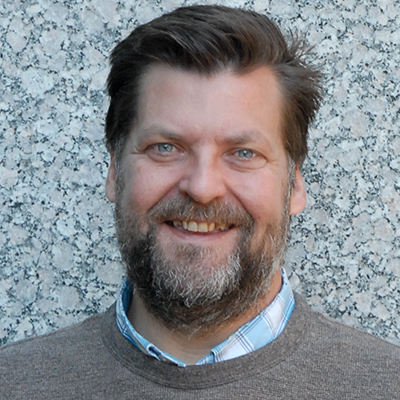 Abstract
We have spent many generations learning how to work within our climate. From the crops we grow, to the types of houses we build, to how big we make our drainage structures. But climate is changing and this is introducing new challenges as today's climate replaced the one we knew a generation ago, and the next generation will know a slightly different one, too. What does that mean for big weather? Weather extremes? What are the things we need to understand about our changing world, and what may be some of the opportunities in a new climate? And how do we really know it's changing, anyway? Deke Arndt from the National Centers for Environmental Information will go over some of the data behind our understanding of climate change, and latest findings from the State of the Climate report and the National Climate Assessment, both of which are produced at NCEI.
Speaker's Bio
Deke Arndt is the Chief of the Climatic Science & Services Division at NOAA's National Centers for Environmental Information (NCEI) in Asheville, NC. The Division takes in historical weather, climate and paleoclimate observations from NOAA and around the world, and transforms them into data, products, analyses, and services used by partners, scientists and decision-makers across public and private sectors. Mr. Arndt previously headed NCEI's Climate Monitoring team, which tracks the climate system through regular expert analyses of parts of the U.S. and global climate system, informed by indicators developed at NCEI or partners. Mr. Arndt was recently the co-chair of the U.S. Global Change Research Program Indicators Interagency Working Group, and currently serves on the Council of the American Meteorological Society. Prior to NOAA, he held several positions at the Oklahoma Climatological Survey. He is a graduate of the University of Oklahoma's School of Meteorology.
Urban Forestry ( Placeholder Title)
Main Speaker: Lord Ameyaw
Assistant Professor , School of Natural Resources | University of Nebraska-Lincoln
Date: 10/19/2022
Time: 3:30 PM
Location: 107 South (Auditorium) Hardin Hall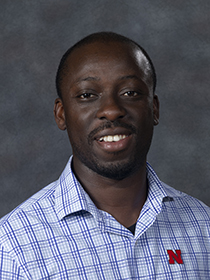 Speaker's Contact Information
Email
TBD (Keeley MacNeill)
Main Speaker: Keeley MacNeill
Environmental Science Lecturer , School of Natural Resources | University of Nebrasks-Lincoln
Date: 10/26/2022
Time: 3:30 PM
Location: 107 South (Auditorium) Hardin Hall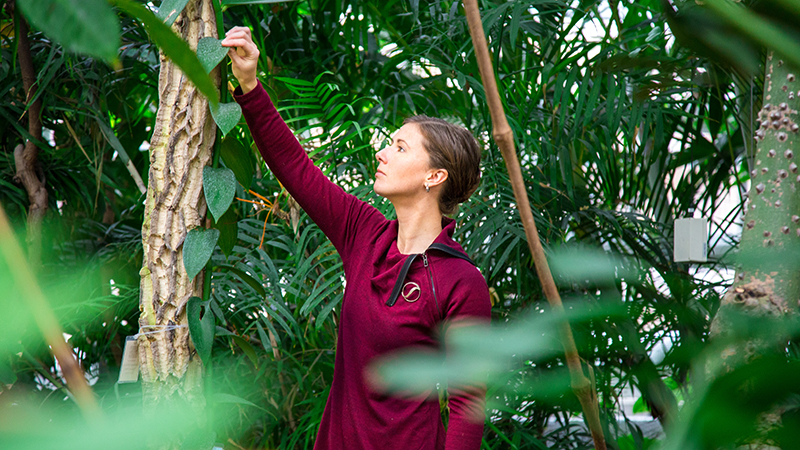 Speaker's Bio
I am a faculty member in the School of Natural Resources. I am an aquatic ecologist interested in how elements move through streams, how they affect each other and how they are taken up and used by aquatic organisms. I explore the interaction between trace and common elements and the implications for ecosystem functioning. This research has taken me to many beautiful places, including northern California, Trinidad, Norway, the Colorado Rocky Mountains, the Ecuadorian Andes, and Yellowstone National Park.
At UNL, I have been working with Dr. Jess Corman and Dr. Steve Thomas on the StreamNet project, which is based in the Scottsbluff area and explores the effects of land use (e.g. CAFOs, row cropping, urban influence) on water quality. Another key water issue in Nebraska is the use of antibiotics in animal production and the application of antibiotic-containing animal waste to row crops. Dr. Thomas and I are collaborating on a project gathering baseline data on how these practices affect the concentration of antibiotics in Nebraska's freshwaters. I am also interested in exploring how fertilization practices affect the retention and transport of toxic elements like arsenic.
Speaker's Contact Information
Email
Dams and drought: how Lake Powell and the southwest mega-drought have fundamentally altered downstream nutrient dynamics
Main Speaker: Bridget Deemer
Research Ecologist , US Geological Survey Southwest Biological Science Center
Date: 11/9/2022
Time: 3:30 PM
Location: 107 South (Auditorium) Hardin Hall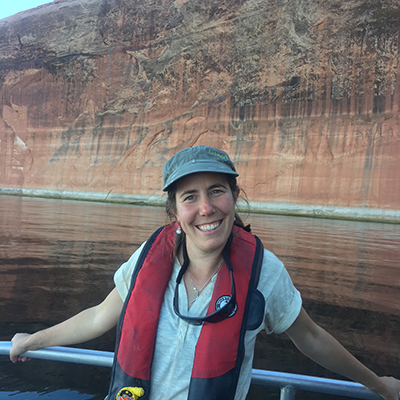 Abstract
Rivers below dams often experience seasonal or persistent reductions in phosphorus (P) inputs due to phosphorus retention in reservoirs. Lake Powell, a large water storage reservoir on the Colorado River, retains the vast majority (95-99%) of the phosphorus that it receives. This creates phosphorus limiting conditions downstream throughout the year. Long-term data from an adaptive management program show how declines in phosphorus releases from Lake Powell can lead to major collapse in the tailwater rainbow trout population. The bio-availability of phosphorus in this ecosystem is largely controlled by calcium carbonate biogeochemistry, where ecologically meaningful reductions in sediment phosphorus release can occur when river pH increases by one unit (from 7 to 8). As reservoir levels go down, as is happening in the Southwest's current drought conditions, water is beginning to be withdrawn from Lake Powell's surface waters, where photosynthesis drives pH up. This, combined with empirical observations of the vertical distribution of soluble reactive phosphorus in the water column, suggests that phosphorus bioavailability downstream of the reservoir will decline as lake levels drop. Thus, declining reservoir water levels may further exacerbate food limitation in the Colorado River below Glen Canyon Dam, with critical implications for fish and invertebrate populations.
Speaker's Bio
Bridget Deemer is a research ecologist at the U.S. Geological Survey's Grand Canyon Monitoring and Research Center where she leads a long-term water quality monitoring program on Lake Powell. Her research informs the Glen Canyon Dam Adaptive Management Program. Bridget is also passionate about understanding the role of artificial reservoirs in the global carbon balance. A major theme of her work examines how dam and reservoir management affects water quality, ecosystem productivity and greenhouse gas emissions. She is interested in identifying reservoir management win-wins as well as trade-offs, which is critical as the quantity and quality of water becomes increasingly variable under a changing climate.
Social Media
Twitter: @BridgetDeemer | Twitter- @USGSAZ
Waterfowl Genetics (Placeholder Title)
Main Speaker: Philip Lavretsky
Assistant Professor , Biological Sciences | University of Texas at El Paso
Date: 11/16/2022
Time: 3:30 PM
Location: 107 South (Auditorium) Hardin Hall
Speaker's Bio
Dr. Lavretsky's research program is interdisciplinary and transcends landscape, evolutionary, and conservation genomics to study speciation, evolution, adaptation, and the role of gene flow. Overall objectives of his research are to determine the distribution of genetic diversity across species' ranges to understand (1) the extent to which adaptive and non-adaptive genetic diversity shapes population structure, including (2) what genes are responsible for geographic adaption versus alternative selective pressures (e.g., sexual selection), (3) how contemporary pressures influence a species' adaptive landscape, and (4) how best to use this information to establish better management and conservation practices. To answer these questions, Dr. Lavretsky employs next-generation techniques to generate genome-wide markers for various taxa and to link genetic variation to species or population traits of interest.
Speaker's Contact Information
Email
Seminar & Discussions Archives
The School of Natural Resources, its faculty and affiliated programs sponsor various seminar and discussion series. Unless otherwise indicated, all are open to the public.