Nebraska's Master Naturalist Program: Providing citizens an opportunity to contribute to natural resource conservation through meaningful, science-based volunteer experiences and a positive IMPACTs regarding local "At-Risk" species
Main Speaker: Dennis Ferraro
Conservation Biologist/Herpetologist, School of Natural Resources | UNL
Date: 8/31/2021
Time: 2:00 PM
Location: Zoom Webinar (Check with Andy Little, alittle6@unl.edu for information)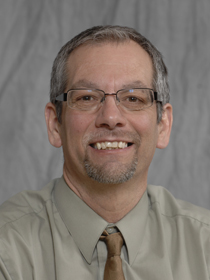 Abstract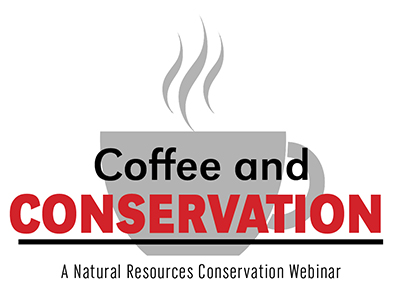 Video
Nebraska Invasive Species Program: Education Resources, Research, and Collaboration
Main Speaker: Allison Zach
Coordinator, Nebraska Invasive Species Program
Date: 9/15/2021
Time: 3:30 PM
Location: 107 South Hardin Hall (Auditorium)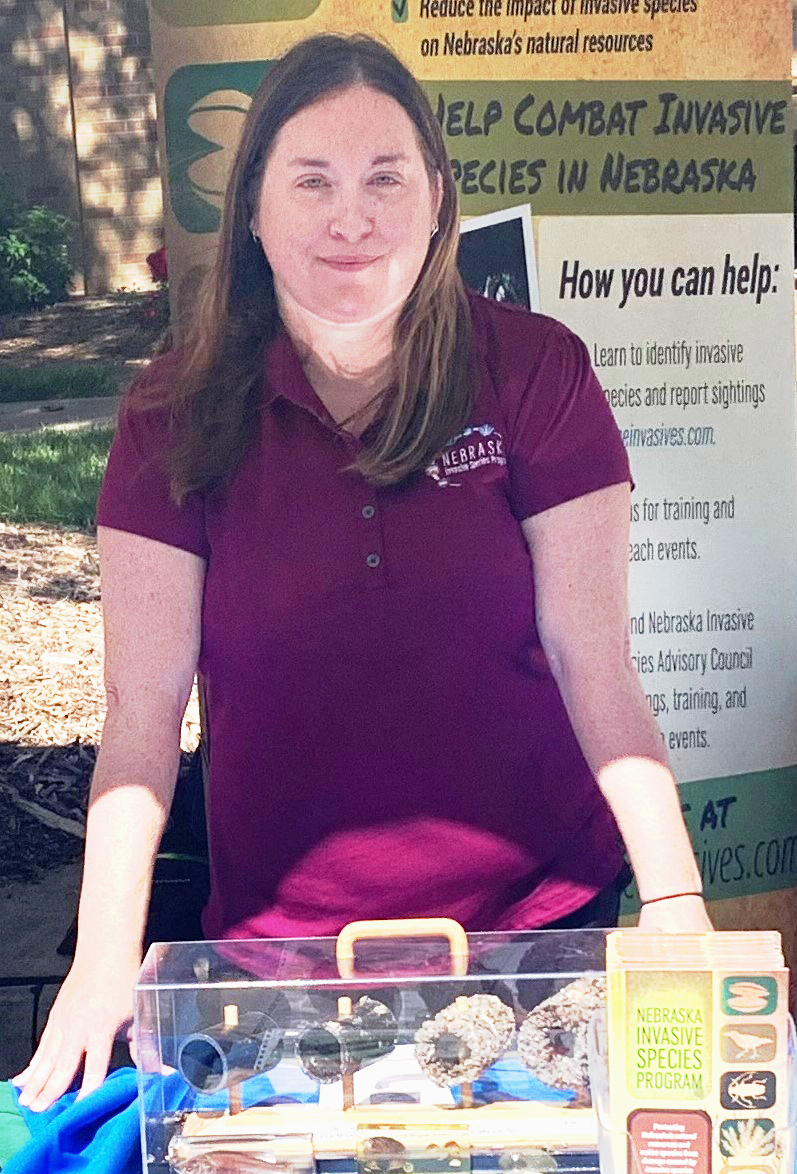 Abstract
A 2021 study estimated that invasive species have cost North America $2 billion per year in the early 1960s to over $26 billion per year since 2010 (Crystal-Ornela, R. et al. 2021). The Nebraska Invasive Species Program and its partners have developed, disseminated and trained resources agency staff and the general public to increase early detection and prevention invasive species in Nebraska. I will present the resources that have been developed and information on the Invasive Species Council and its part of preventing the spread of invasive species in Nebraska. I will also present research that my program and other partners have conducted to protect Nebraska's water resources from invasive species impacts. I will present important research and collaborations occurring to further invasive species prevention across North America. I will provide information on education and outreach materials that are available and resources I can provide to train resource professionals, students and the general public.
Speaker's Bio
Allison has served as the Nebraska Invasive Species Program Coordinator for the past 8 years and works with state and federal agencies and non-governmental organizations involved in invasive species research, management and policy across Nebraska. She coordinates activities of and represents the Nebraska Invasive Species Council as its liaison with the Governor and State Legislature. She collaborates with agencies and organizations to develop invasive species management plans to aid partners with invasive species management and prevention. Allison develops materials and provides outreach and education to Nebraska resource agencies, individual stakeholders, and the general public regarding the management and prevention of invasive species. She has served various regional and international invasive species panels and organizations. She was appointed to the Board of the North American Invasive Species Management Association in 2021. Previously she worked at the Nebraska Department of Transportation and the Nebraska Department of Energy and Environment. She received her bachelor's degree in Fisheries and Wildlife from UNL and her Master's in Wildlife Biology from Minnesota State University.
Video
Using 'Big Data' to Propel New Insights in Freshwater Ecosystem Science
Main Speaker: David Manning
Assistant Professor, University of Nebraska-Omaha | Department of Biology
Date: 9/22/2021
Time: 3:30 PM
Location: Zoom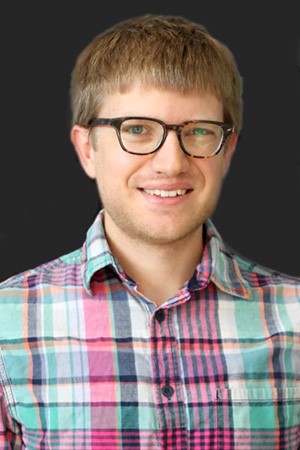 Abstract
Freshwater ecosystems, including streams and rivers, are among the most imperiled across the globe. Understanding their responses to threats such as climate change, nutrient pollution, and others, is critical for mitigating harm and conserving ecological functions. Freshwater scientists are at the forefront of harnessing unprecedented volumes and varieties of data ('big data') to detect and predict how streams and rivers respond to a changing world. I will present three stories about how I have used big data in Nebraska and beyond to uncover novel insights about how streams and rivers work, and to illustrate remaining challenges and opportunities for freshwater ecosystem science and conservation.
Speaker's Bio
David is currently Assistant Professor in the Department of Biology at the University of Nebraska at Omaha. Prior to joining the UNO faculty in 2018, he completed his doctoral training in freshwater ecosystem ecology at the University of Georgia, and was a postdoctoral researcher in the Stream and River Ecology Lab at The Ohio State University where he studied connections between aquatic and terrestrial food webs. At UNO, his research focuses on the ecosystem ecology of streams and rivers in the Great Plains, including strategies to manage the multiple stressors that threaten freshwater ecosystems in the region, such as nutrient pollution and urbanization.
Video
Potential Changes Coming Down the River: Least Tern and Piping Plover Conservation on the Lower Platte River
Main Speaker: Mark Vrtiska
Wildlife Management Specialist, Tern and Plover Conservation Partnership | School of Natural Resources - UNL
Date: 9/28/2021
Time: 2:00 PM
Location: Zoom Webinar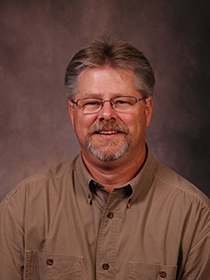 Abstract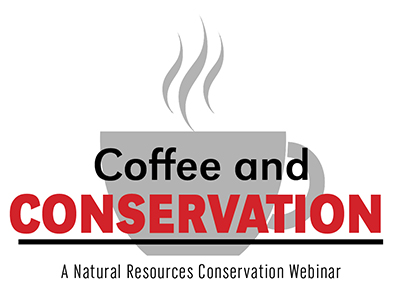 Video
Understanding the Mating System of Wild Turkeys Relative to Spring Harvest: The Tale of Aardvarks and Arcadia
Main Speaker: Michael Chamberlain
Terrell Professor of Wildlife Ecology and Management, University of Georgia | Warnell School of Forestry and Natural Resources
Date: 9/29/2021
Time: 3:30 PM
Location: 107 South Hardin Hall (Auditorium)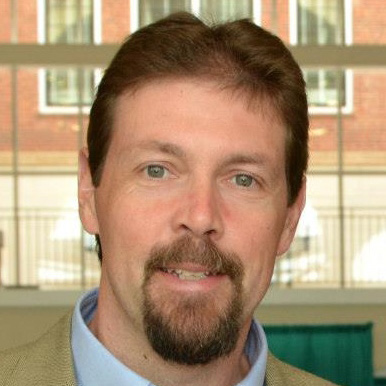 Abstract
This presentation provides an overview of the mating system of wild turkeys and discusses how spring harvest can be important to the species given how their mating system works. Numerous examples of data collected as part of ongoing research will be shown to demonstrate growing evidence suggests spring harvest (timing and rate) may be more impactful to the bird than previously believed. The talk will conclude by discussing the Aardvark and Arcadia principles and how we've potentially lulled ourselves to sleep in regards to managing wild turkey harvest.
Speaker's Bio
Mike Chamberlain is the Terrell Distinguished Professor of Wildlife Ecology and Management in the Warnell School of Forestry and Natural Resources at the University of Georgia. Mike has been with the faculty at UGA for 10 years, after spending 11 years in a similar position at Louisiana State University. He obtained a B.S. from Virginia Tech, and M.S. and Ph.D. degrees from Mississippi State University. Mike has conducted research on various wildlife species throughout his career, with much of his work focused on applied questions directed at management of those species and the landscapes they inhabit. Since his days as a graduate student, Mike has consistently conducted research on wild turkeys, with that research now spanning 23 years. In recognition of his work on wild turkeys, the National Wild Turkey Federation has presented him with the Henry S. Mosby Award for excellence in research, and the Tom Kelly Communicator Award for his social media and outreach efforts focused on wild turkey research and management.
Student reasoning about ecological systems and change
Main Speaker: Laurel Hartley
Associate Professor, University of Colorado (Denver) | Department of Intregrative Biology
Date: 10/6/2021
Time: 3:30 PM
Location: Zoom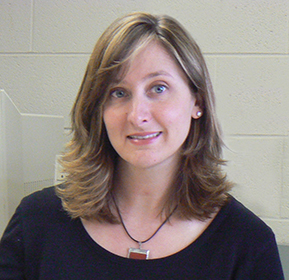 Abstract
Understanding ecological systems and being able to reason about ecological disturbance is important for informed citizenship. This presentation will discuss several related research projects that explore student recognition of biodiversity and student reasoning about ecological systems and disturbance. Our work shows that, as students develop increasingly sophisticated understandings of ecological systems they 1) develop a recognition of the hierarchical structure of ecological systems, 2) reduce their reliance on inappropriate analogies, 3) move from describing biodiversity through the lens of essentialism to describing both central tendency and variability and 4) move from describing ecological communities as static to describing them as dynamic. An anlysis of ecological literacy of grades 6-12 students in five states indicates that only a small fraction of students are able to reason to the highest standards in our three level learning progression. Finally, our work shows that reasoning about ecological systems is correlated with familiarity with biodiversity. This research has implications for the teaching of ecology at the K-16 levels.
Speaker's Bio
Dr. Hartley conducts research to assess and improve how students understand biological concepts and apply scientific principles, especially concepts and principles related to ecology. She co-founded the Learning Assistant Program at CU Denver and conducts research on the impact of LAs on student learning and inclusion. She is also has active research in urban ecology, related to monitoring urban wildlife and exploring how factors of urbanization influence wildlife biodiversity. As part of this work, she studies how undergraduate students can contribute to authentic ecological research through Course Based Undergraduate Research Experiences (CUREs). Finally, Dr. Hartley has studied the impact of introduced bubonic plague on both urban and rural black-tailed prairie dog (Cynomys ludovicianus) communities. Dr. Hartley completed a postdoctoral position at Michigan State University, a PhD in Ecology and MS in Biology at Colorado State University, and a BS at Southwestern University. She also briefly worked at the Smithsonian National Museum of Natural History as the content researcher for an exhibition entitled Dig It! Secrets of Soil.
Video
Lessons from Long-Term Studies of Wildlife Ecology and Conservation in an Urban National Park: From Newts to Mountain Lions and Rat Poisons to Wildfire
Main Speaker: Seth Riley
Adjunct Associate Professor; Wildlife Branch Chief, UCLA | Institute of Environment and Sustainability; U.S. National Parks Service; Department of Ecology and Evolutionary Biology
Date: 10/13/2021
Time: 3:30 PM
Location: 107 South Hardin Hall (Auditorium)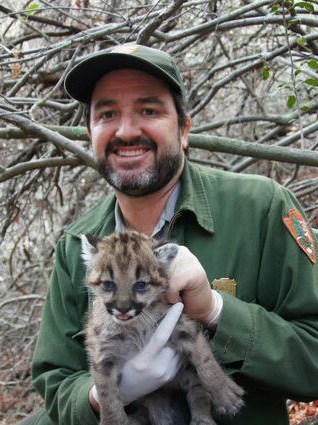 Abstract
The role of national parks is to preserve the natural resources present in the parks, including the wildlife resources. At Santa Monica Mountains National Recreation Area, the primary challenges for effective wildlife conservation are understanding and mitigating the effects of urbanization, including habitat loss and fragmentation. We have also documented multiple threats to wildlife communities in this urban landscape. Stream amphibian populations are threatened by altered stream structure and permanence, which allows exotic predators to persist in urbanized watersheds. Fragmentation results in the loss of terrestrial reptile species from smaller habitat patches. For some of the more widespread species that remain, we have seen that fragmentation is already associated with significant genetic differentiation. For the most wide-ranging mammalian carnivores, we have seen that species such as coyotes, bobcats, and mountain lions are surprisingly adaptable to development. Yet carnivores too face significant threats. Roads, particularly large freeways, and urban development form major barriers to movement for carnivores, leading to significant reductions in gene flow. Toxicants are present at high levels in all three species, cause direct mortality, can affect immune response, and can have significant population-level effects. Wildfires have become more common and larger, significantly impacting multiple animal communities. Our long-term studies have shown that there is great value in preserving urban wildlife communities in Southern California, but that significant challenges remain.
Speaker's Bio
Seth Riley grew up in Washington, DC. He graduated in 1988 from Stanford University with a B.A. in Human Biology. From 1988-1990 Seth worked as a wildlife biologist for the National Park Service at the Center for Urban Ecology in Washington. He went to the University of California, Davis, where he graduated with a Ph.D. in Ecology in 1999. His dissertation work was on the ecology of bobcats and gray foxes in urban and rural areas of Golden Gate National Recreation Area. After graduating Seth worked as a post-doctoral fellow at Davis studying hybridization between native and introduced tiger salamanders. At the beginning of 2000, Seth began in his current position as Wildlife Ecologist. His current projects include a bobcat telemetry study, a mountain lion GPS telemetry study, stream surveys for amphibians, pitfall/drift fence trapping to determine terrestrial reptile and amphibian distribution and abundance, and a number of projects on the impacts of freeways on wildlife.
Video
Instream Flow: Securing Water for Wildlife
Main Speaker: Michelle Koch
Assistant Division Administrator, Nebraska Game and Park Commission
Date: 10/26/2021
Time: 2:00 PM
Location: Zoom Webinar
Abstract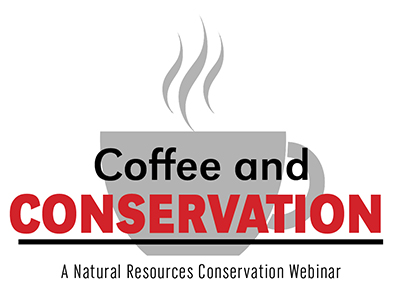 Video
Using Decision Analysis for the Collaborative Management of Natural Resources
Main Speaker: Kelly Robinson
Assistant Professor, Michigan State University | Department of Fisheries and Wildlife (Quantitative Fisheries Center)
Date: 10/27/2021
Time: 3:30 PM
Location: 107 South Hardin Hall (Auditorium)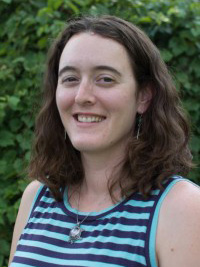 Abstract
In the Laurentian Great Lakes, making decisions for fisheries and ecosystem management are challenging because of ecological and social uncertainty, the need for multi-jurisdictional collaboration, and large-scale ecosystem changes that threaten Great Lakes food webs. In particular, invasive species, land use / landscape change, and climate change affect decisions made for Great Lakes fisheries. Decision analysis provides a framework to allow decision makers and stakeholders to transparently and deliberatively work through these difficult decisions. I provide two examples of applications decision analysis to Great Lakes fishery management problems. The first example is a framework for responding to invasive species, focused on grass carp, one of the four "Asian carps" that are invasive to North America. The second example discusses decisions for prioritizing barrier removal and remediation projects on tributaries to the Great Lakes, accounting for multiple ecological, economic, and social objectives. These examples provide a framework for decision making that has been embraced by state, provincial, and federal fisheries managers in the Great Lakes region.
Speaker's Bio
Dr. Kelly Robinson is an assistant professor with the Quantitative Fisheries Center, in the Department of Fisheries and Wildlife at Michigan State University. Kelly's research is focused on the ecology and management of Great Lakes fishes, as well as the application of decision analysis to natural resource management problems in the Great Lakes and beyond. Kelly received her B.A. in Biology and Spanish from the University of Virginia, her M.S. in Marine Biology from the College of Charleston, and her Ph.D. in Fisheries Science from the University of Georgia. Kelly has applied decision analysis to a variety of problems, including invasive species control, endangered shorebird management, and harvest management for multiple fish and wildlife species. Her fisheries research includes understanding the effects of ecosystem change on native benthic preyfish, sea lamprey control efforts, and harvest management.
Video
Dynamics, Challenges, and Restoration Needs of Louisiana's Coastal Wetlands
Main Speaker: Brian Davis
Assistant Professor, Wildlife Ecology and Management, Mississippi State University | College of Forestry Resources
Date: 11/3/2021
Time: 3:30 PM
Location: 107 South Hardin Hall (Auditorium)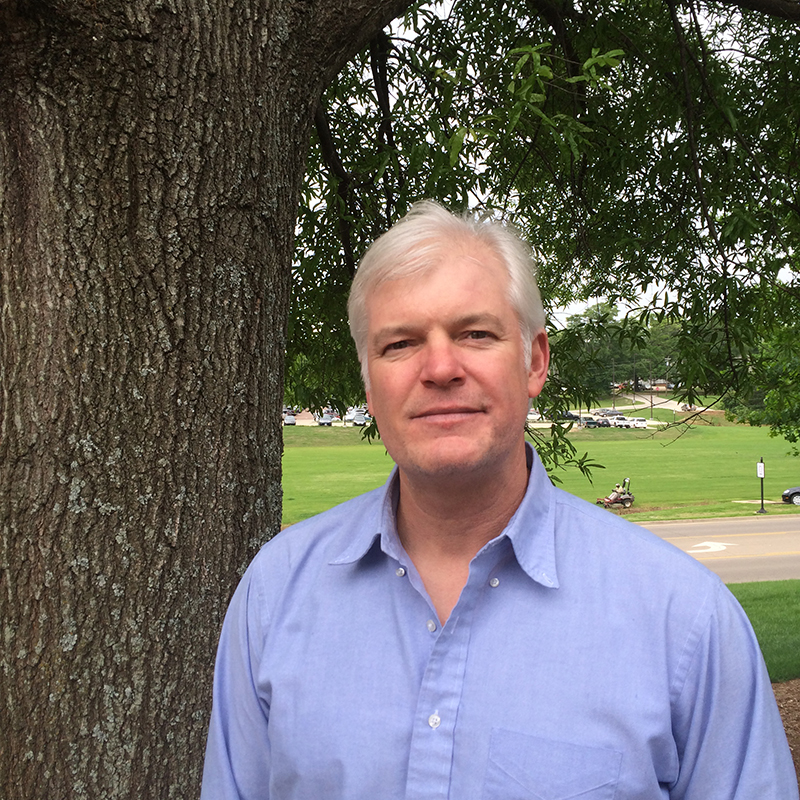 Abstract
Gulf coastal wetlands are incredibly biodiverse and provide significant ecological goods and services. Gulf coastal states account for 85% of the total decrease in coastal wetland area in the conterminous United States, with Louisiana accounting for most of this loss. Various restoration techniques are used to stem marsh loss. Marsh terracing is one such technique and uses in situ sediment to construct segmented ridges in open water areas of coastal wetlands to dissipate erosive wave energy, reduce turbidity, increase submerged aquatic vegetation production, and provide habitat for a diversity of wildlife species. Despite widespread use of marsh terraces for over 30 years, past research and monitoring have provided limited results on their sustainability and overall value as avian or other wildlife habitat across spatial and temporal scales. This presentation discusses: 1) General background on Gulf coastal systems, 2) use of terrace and non-terraced sites by various guilds of birds and 3) assesses spatiotemporal relationships among wind conditions, wave parameters, water level, soil shear strength, and suspended sediment concentration in wetland environments modified with marsh terraces.
Speaker's Bio
Dr. Davis was born and raised in St. Louis, MO. He attained his BS degree in Wildlife Management from the University of Missouri-Columbia. His MS and PhD degrees were from the Department of Wildlife, Fisheries & Aquaculture (WFA), Mississippi State University (MSU). Brian did temporary work in wetlands management for the Missouri Department of Conservation. He spent six years with the California Waterfowl Association doing research, outreach and major gift fundraising. He was a Regional Biologist for Ducks Unlimited, Inc for eight and a half years. He is currently an Associate Professor at WFA/MSU.
Video
Teasing apart among and within city variation in urban biodiversity through a large-scale, multi-city collaboration
Main Speaker: Mason Fidino
Quantitative Ecologist, Lincoln (NE) Park Zoo | Urban Wildlife Institute
Date: 11/10/2021
Time: 3:30 PM
Location: TBD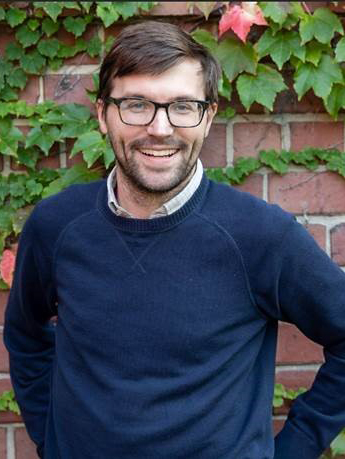 Abstract
We live on an urban planet, and in no place is this more apparent than in the world's cities. As urban environments are one of the fastest growing ecosystems on earth, they represent a unique opportunity for science, especially for ecology and conservation. Yet, one central limitation of most urban ecological studies is that they are conducted within single cities. Afterall, cities vary in age, topography, geographic location, zoning, population density, and many other factors. Because biodiversity likely responds to this among-city variation, it is difficult to extrapolate findings from one city to another. As such, my colleagues and I at the Lincoln Park Zoo started the Urban Wildlife Information Network (UWIN), a systematic, collaborative multi-city biodiversity monitoring survey that spans over 35 cities and 3 continents. In this talk I will discuss our first and most widespread sampling efforts, which revolve around using motion-triggered trail cameras. I will share some of the published research from our network and discuss some difficulties—or opportunities, depending on how you look at it—associated to modeling multi-city data.
Speaker's Bio
Dr. Mason Fidino is an ecologist who works at the Urban Wildlife Institute at the Lincoln Park Zoo. His research lies on the intersection of urban ecology and biodiversity informatics. He combines large and complex data sources, creates new quantitative techniques, and fiddles around on computers an awful lot to determine how biodiversity responds to environmental change across multiple spatiotemporal scales. He also says to be interested in understanding ecological principles in urban environments and believes that cities are an important and overlooked part of the landscape that can conserve biodiversity. On top of his own research, he is also the analytics advisor for the Urban Wildlife Information Network (UWIN), which is an international network of researchers who systematically collect data on wildlife distributions along urbanization gradients in different cities. In this role he ensures that the integrity of the data that is collected across UWIN and provides statistical support to UWIN members. In 2017 he obtained a PhD degree in Ecology and Evolution at the University of Illinois at Chicago.
Video
Interpreting Climate Change for Nebraska
Main Speaker: Stonie Cooper
Mesonet Manager, Nebraska State Climate Office
Date: 11/17/2021
Time: 3:30 PM
Location: 107 South Hardin Hall (Auditorium)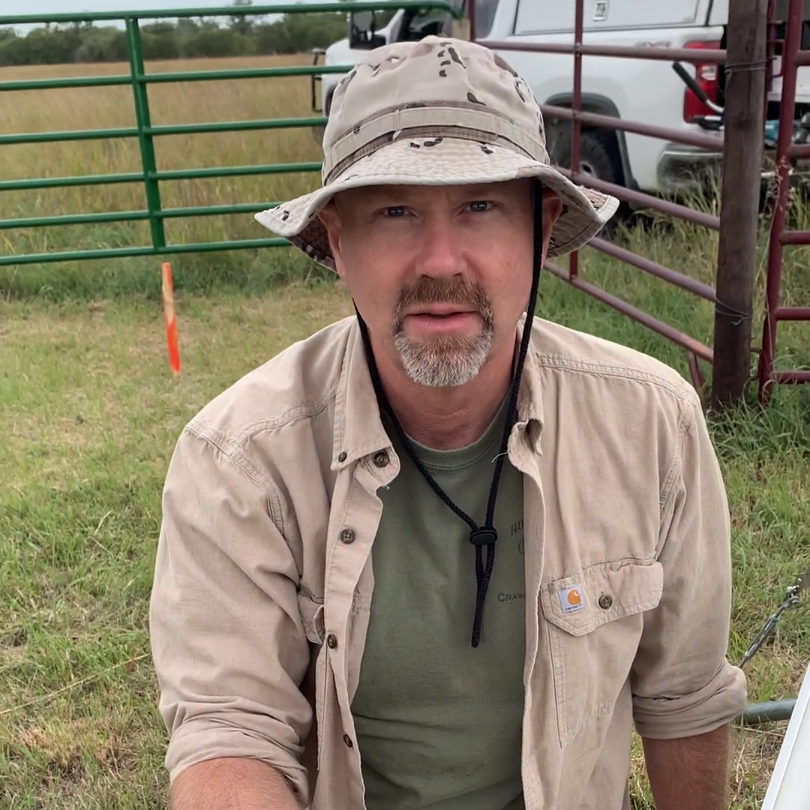 Abstract
A brief examination of the in-situ observations over Nebraska will provide a trends-based background before applying NC4 and IPCC modeled climate outcomes specifically to meaningful sensed variables for the central Great Plains. As climate change presents no historical analog for the projected climate future of Nebraska, better-fit biome analysis will be presented with emphasis on positive outcomes for stakeholders.
Speaker's Bio
Continuing the UNL tradition of institutional inbreeding, Stonie grew up in Nebraska and earned bachelor's in natural science education and meteorology at UNL before a brief stray into atmospheric chemistry as a PhD student at Georgia Tech. Stonie returned to finish said PhD at SNR in Natural Resources with emphasis on climate assessments and impacts, with hopes of graduating in May of 2022. Most of Stonie's career has been in the private sector with experience in operational meteorology, severe weather forecasting, climatology, and climate adjacent industries. Technical expertise in satellite communications, IT security, data warehousing using data analytics, and utilizing massively SMP computing resources with threaded applications and machine learning adaptations for "forecasting the forecast" for the European energy trading market.
Video
Advancing Wetlands Conservation for Water Quality and Wildlife in Iowa
Main Speaker: Adam Janke
Assistant Professor and Extension Wildlife Specialist, Iowa State University
Date: 11/30/2021
Time: 2:00 PM
Location: Zoom Webinar (Check with Andy Little, alittle6@unl.edu for information)
Abstract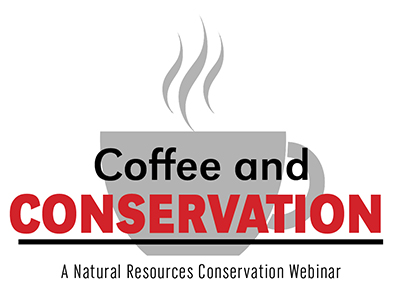 Video
Using Duck Energetics to Guide Wetland Restoration
Main Speaker: Adam Behney
Avian Researcher, Colorado Parks and Wildlife
Date: 12/14/2021
Time: 2:00 PM
Location: Zoom Webinar (Check with Andy Little, alittle6@unl.edu for information)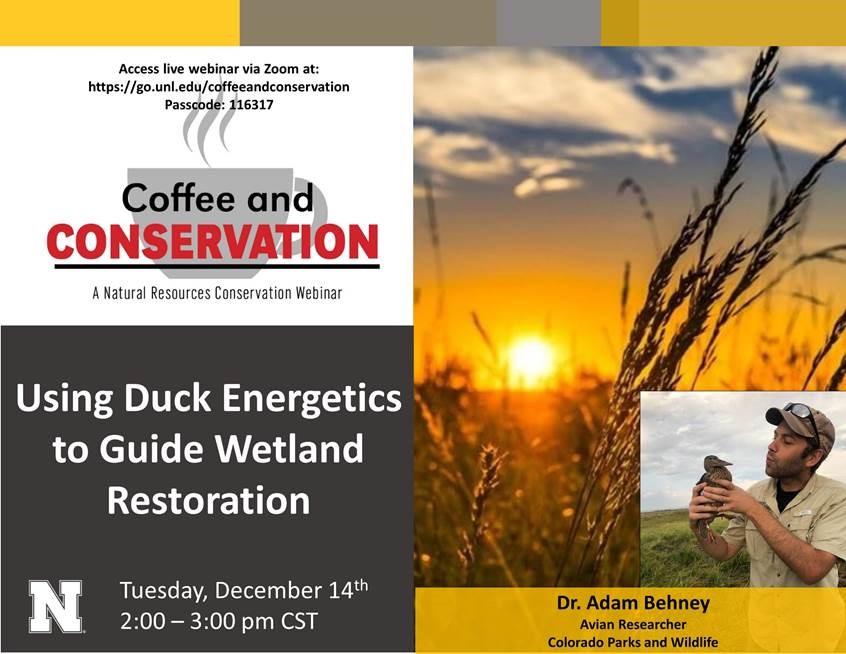 Abstract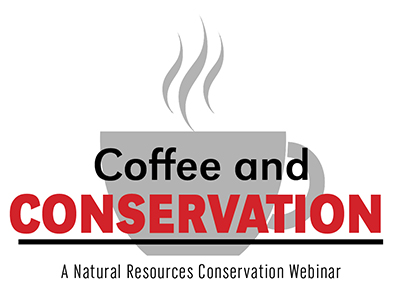 Seminar & Discussions Archives
The School of Natural Resources, its faculty and affiliated programs sponsor various seminar and discussion series. Unless otherwise indicated, all are open to the public.