Meet Caily Schwartz
Caily Schwartz is determined to bring about a positive change in the world and increase awareness of water conservation and proper management of water resources based on scientific findings. She grew up in Elmhurst, a suburb of Chicago, Illinois. Caily had a beautiful childhood, spending most of her time outdoors with friends in the neighborhood. This might explain her desire to create communities wherever she goes. Currently, Caily is the co-chair of the SNR Graduate Student Association (GSA), which allows her to build a community of fellow graduate students.
As her interest in the importance of water grows, Caily is passionate about continuing to study and understand the many components of the global system. The social-environmental system is important to consider when looking at drought impacts. Humans have the capacity to change the landscape and make decisions that will impact future generations regarding water resources. Accounting for behavior is difficult but can help shape future research studies or educational workshops.
With a background in physical science and remote sensing, Caily adds social science data and methods to collect a rich understanding of drought and the challenges people face. She finds this work especially rewarding and can be used to inform producers or water managers of their drought risk. From this interest in combining multiple streams of data, Caily has found another passion in connecting science to policy. By working together, hopefully, there will be less detrimental impacts on communities.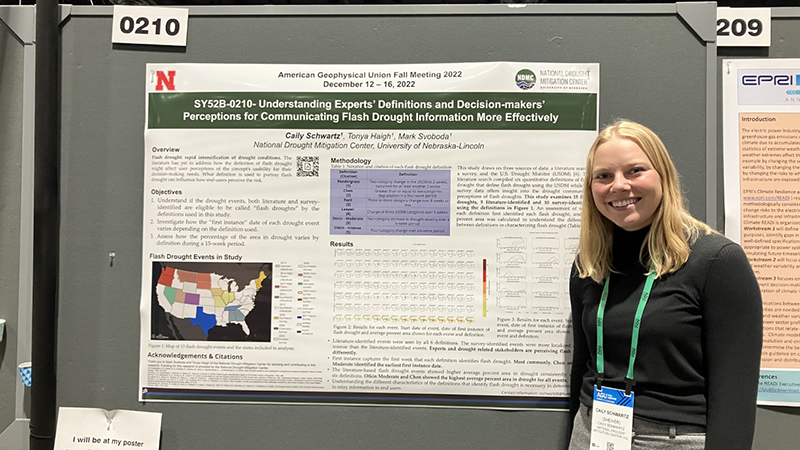 What are you studying?
"My doctoral studies are in Natural Resource Sciences with a specialization in Human Dimensions."
What other degrees do you have?
"I have a BS in Environmental Science from Auburn University and an MS in Earth System Science from the University of Alabama in Huntsville."
Why did you choose this school?
"I was especially drawn to the Human Dimensions specialization here in the School of Natural Resources. My background was focused on the technical and physical aspects of drought, so I was really interested in including the human side in my Ph.D. research. I had worked on a drought index during my master's program and loved it, so I wanted to continue learning about drought and its impacts. I am fortunate to be able to come here to learn from the National Drought Mitigation Center during my Ph.D. too."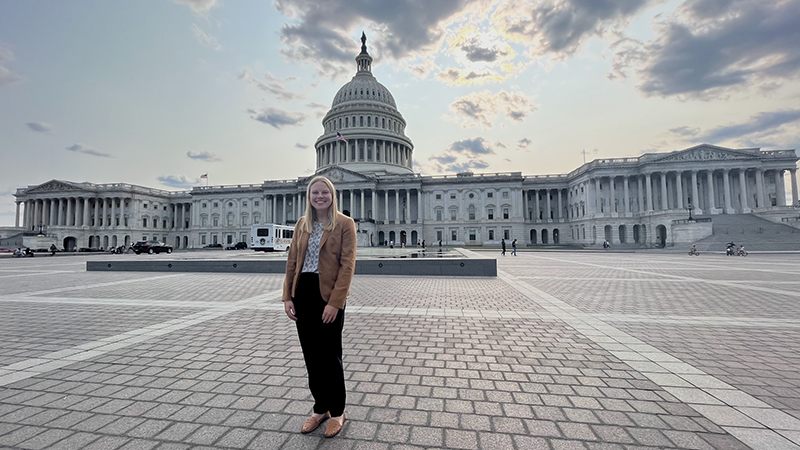 What's the focus of your research?
"My research focuses on understanding drought impacts by looking at both climate data, like precipitation or soil moisture, and social science data, like human perspectives. I had initially looked at perceptions of flash drought and drought risk to specialty crops."
What are your goals after graduate school?
"I'm more inclined to pursue my passion around water availability. I am very interested in the intersection between climate science and social science, and I hope to be in a role where I can translate scientific findings to different organizations and communities, especially for the use of influencing policy."
Any participation in social clubs?
"This past school year, I was the co-chair of the School of Natural Resources Graduate Student Association (GSA). Our main goal was to increase community between graduate students in the department, by planning several social events. I'm happy to note that we had some good events, and the turnout was great."
What has been your favorite class to take/teach thus far and why?
"I took a class called Environmental Anthropology and I really enjoyed it. The class talked a lot about our definitions of nature and the environment and the different perceptions of these words. It changed how I view the outside world!"
What are your hobbies?
"My main hobbies are hiking, climbing, reading, and walking my dog! I also love to read. Some of my favorite authors are Peng Shepard and Catherine Ryan Howard and I really liked the book Lessons in Chemistry by Bonnie Garmus."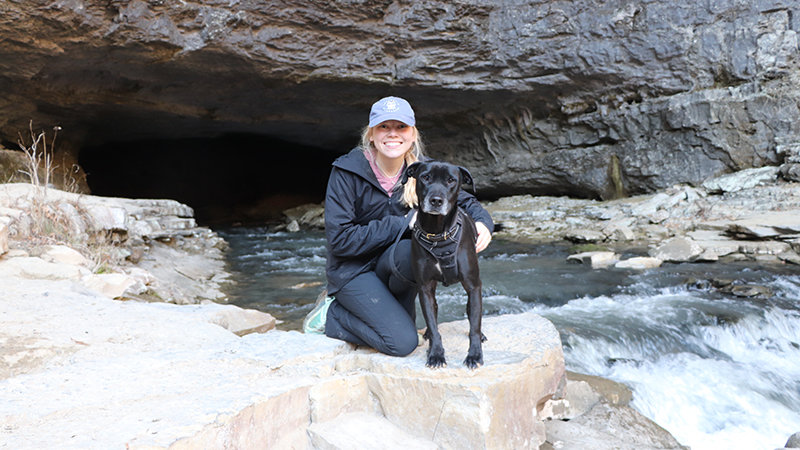 What are your favorite places on campus?
"I really enjoy working at Dinsdale Family Learning Commons. It has great windows, and it overlooks the arboretum."
Advice for incoming students?
"Grad school is challenging!
Finding a mentor(s) that you can turn to when you're stuck is important, and having a support system outside of work will be helpful too. Other grad students are a great resource to discuss your research with and can provide ideas or help you clarify what you're trying to say."
— by Jerome Okojokwu-Idu, graduate student in Natural Resource Sciences.