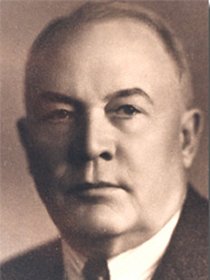 Dr. George E. Condra, director of the Conservation and Survey Division (CSD) of the University of Nebraska from 1921 to 1954, sought to better serve the water well industry and the people of the state by promoting professionalism in well drilling. With the help of a number of interested drillers, he organized a professional association for their profession, the Nebraska Well Drillers Association (NWDA).
To honor Condra, in 1970, the well drillers worked with the University of Nebraska Foundation to set up the "George E. Condra Groundwater Geology Memorial Scholarship Sponsored by the Nebraska Well Drillers Association." The scholarship is worth $1,000 and is given annually to one or two qualified undergraduate students in the University of Nebraska system who has sophomore standing or above with at least a 3.0 GPA; and is enrolled full-time in any program leading to a career in the water well industry or in geology, hydrology or hydrogeology.
For scholarship applications, contact Jacki Loomis at (402) 472-7550. Applications are due each year by November 15th, and the scholarship is awarded at the annual convention of the Nebraska Well Drillers Association in Lincoln in mid-February.
Opportunities for Giving
Information about giving to this and other funds can be found at the NU Foundation web site.
Award Winners
Year
Recipients
2022 - 2023

Amanda Cline

Isaiah Sattlefield

2021 - 2022

Eric Johnson

Callie McCright

2020 - 2021

Nathan Donoghue

Spencer Schmidt

2019 - 2020

Steven Hentzen

Johnathan Miller

2018 - 2019

Celeste Kenworthy

Alicia Li Han Chan

2017 - 2018

Owen George

2016 - 2017

Megan Pamperin

2015 - 2016

Nicole Smith

2014 - 2015

Ethan Nutter

2013 - 2014
2012 - 2013

Jesy Hansen

2011 - 2012

Ross Lawrence

Wyatt Stubbs

2010 - 2011

Katherine Boone

2009 - 2010

Dillon Dittmet

Jared Norris

2008 - 2009

Andrew Rieschick

2007 - 2008

Scott Sorensen

2006 - 2007
2005 - 2006

Allen Marten

2004 - 2005

Benjamin Cunningham

2003 - 2004

Will Myers

2002 - 2003

Amanda Hassler

2001 - 2002

Jonathan Mohr

2000 - 2001

Sam D. Matson

1999 - 2000
1998 - 1999

Joseph S. Richerson