Herman and Alice Kohrs were inextricably tied to Nebraska, to the land they farmed near Johnson in Nemaha County and to conserving the soil and water from which they earned a living. To honor their commitment to the land, their sons established this scholarship.
It goes to students pursuing bachelor's degrees in natural resources. The three sons had a deep respect for their parents' devotion to agriculture, soil and water conservation and stewardship of the land.
Kohrs Family Tied to Agriculture, Soil and Water Conservation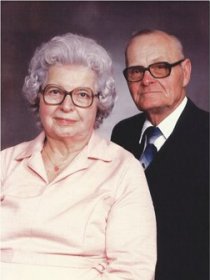 Herman and Alice Kohrs were inextricably tied to Nebraska, to the land and to the desire to earn a living from it. Doing so, they contributed their lives in farming to the establishment, through their sons, of the Herman and Alice Kohrs Memorial Scholarship at the University of Nebraska-Lincoln.
Every year, the scholarship goes to several undergraduate students pursuing bachelor's degrees in natural resources at the College of Agriculture and Natural Resources. Sons Keith of Pueblo, Colo., Sterling of Beatrice and David of Omaha still own the original family farm and adjacent land near Johnson, Nebraska, totaling 400 acres. They split it three ways after their parents' deaths in 1993.
When their parents died, the brothers wanted to do something to honor their memories, Keith said, setting up the scholarship fund in 1994. "My folks weren't rich, but they were pretty comfortable. I told my brothers we ought to establish a scholarship at the university. We had talked about it for a long time, and finally we did that."
Though none of the three brothers chose farming as a career, they have a deep respect for their parents' devotion to agriculture, the conservation of water and soil and the prudent stewardship of the land, eldest son Keith said.
"My dad was the kind of guy who would try things that the neighbors wouldn't try. He was one of the first guys to have terraces on his farm and to do contour farming. He planted a shelter belt to conserve water. He wasn't a hunter, but he believed in providing a place for the game. His progressive conservation practices eventually paid off.
"He took a farm that hadn't been farmed very well, and he turned it into a very productive farm with his practices of soil conservation and crop rotation. They saved the soil like they saved their money."
At the time, it was especially hard to eke out a living by farming. Herman's conservation practices evolved, at least partly, out of necessity.
"They got married right in the heart of the Depression in 1932," Kohrs said. "In 1934, he planted 40 acres of corn, and he could only find six seeds that germinated, but they had the guts to stay with it. They worked very hard all their lives."
Herman and Alice Kienker Kohrs were born six miles apart near Johnson, a farming community of 300 people in northwestern Nemaha County—Herman in 1902 and Alice in 1904. They seldom ventured far from home and died just seven weeks apart. Kohrs said some of his father's farming practices were uncommon at the time, and neighbors were skeptical.
"He was one of the first guys to believe in commercial fertilizers. A lot of his neighbors thought that was going to ruin the soil."
His unconventional thoughts on new methods of soil and water conservation occasionally earned him the rebuke of his fellow farmers.
"The neighbors used to laugh at him because he had those terraces. They said, 'Those terraces are going to bend up your farm machinery,' and he didn't pay any attention to them. He just kept on farming."
With patience and persistence the Kohrs farm prospered and, even in hard times, the family never went hungry, Keith said. Like most people, Herman and Alice Kohrs also had their share of  sadness. The couple's only daughter, Betty Jean, died in 1950, and they grieved her loss for the rest of their lives, Keith said. Despite the setbacks, the uncertainties and the disappointments, farming was the one constant in their lives.
The couple continued to farm the same land until Herman was 75 years old. They moved into Johnson in 1976, building a very nice house in town, he said.
"My dad always said that being in the farming business was the poorest business to be in, but he stayed in there all his life," Keith said. "He said owning a farm was the poorest investment you could have, but yet about five or six months before he died he went out and bought another farm so that all three boys could have a farm."
Keith's farm has been in the family for 103 years, and all three of them are within four or five miles of each other. Asked to describe his parents, Keith summed it up in one word, "gentle." The Herman and Alice Kohrs Memorial Scholarship is a tribute to their love of farming, conservation, education and youth.
"They were very youth-oriented. They always looked out for their grandkids and they always looked out for kids in the community."
by Tom Ineck
Opportunities for Giving
Information about giving to this and other funds can be found at the NU Foundation web site.
Award Winners
Year
Recipients
2023 - 2024

Carson Ahlers

Caitlyn Faust

Dominic Giannini

Truett Nelson

2022 - 2023
2021 - 2022

Dominic Giannini

Erik Henry

Max Metzger

Tyler Prow

2020 - 2021

Erik Henry

Caitlin Kingsley

Johnathan Vacek

2019 - 2020

Sydney Brewer

Jacob Harvey

Steven Hentzen

Caitlin Kingsley

Chase Streeter

2018 - 2019

Ashlynn Baker

Steven Hentzen

Caitlin Kingsley

Bryan Petersen

2017 - 2018

Allison Carothers

Autumn Dunn

Ethan Freese

Robert Schroeder

2016 - 2017

Allison Creeger

Tim Lambert

Jasmine Mausbach

Chance Vorderstrasse

2015 - 2016

Allison Creeger

Ethan Freese

Regan Gilmore

Jasmine Mausbach

Wie Tang

2014 - 2015

Ryan Gardner

Casie Gieseking

James Reece

Eric Slegh

Daniel Uttecht

2013 - 2014

Alexander Artz

Reed Brodersen

Ryan Gardner

Hannah Janda

James Reece

2012 - 2013

Austin Baldwin

Casey Gieseking

James Reece

Victoria Simonsen

Rachel Valenziano

2011 - 2012

Amanda Conway

Karl Dietrich

Adelle Smith-Eskridge

Maleah Wraith

Lisa Zilli

2010 - 2011

Ben Beckman

Katherine Boone

Katie Clear

Karl Dietrich

Samantha Janousek

Lindy Rauscher

2009 - 2010

Ben Beckman

Lacey Bodnar

Katie Clear

Amanda Conway

Kaitlyn DeLashmutt

Samantha Janousek

2008 - 2009

Ben Beckman

Lacey Bodnar

Trevis Carmichael

Mark Christenson

John Dinneen

Samantha Janousek

Jennifer Jones

Mitch Paine

2007 - 2008

Ayako Ebata

Kayo Hayashi

Minako Ishibashi

Jessie Starostka

Rich Wilson

Jessie Winter

2006 - 2007

Lars Anderson

Austin Bontrager

Mark Christenson

William Score

Jessie Starostka

Hiroko Yoshida

2005 - 2006

Austin Bontrager

Mark Christenson

John Dinneen

Mathew Primrose

William Score

Rachel Wells

2004 - 2005

Scott Bohaty

Casey Cain

Sarah Mack

Cherette Mastny

Rich Wilson

2003 - 2004

Scott Bohaty

Leah Bomberger

Naoko Kobayashi

Chelsea Phillippe

2002 - 2003

Emily Hunter

Richard Kopf

Tyler Naprstek

Matthew Neukirch

David Putensen

Clayton Ridenour

Matthew Rolling

Eton Stebbins