p>This fund for undergraduate scholarships was set up by a now-retired UNL professor of wildlife. Ron Case's ongoing concern for students continues through this fund. It stems in large part from his involvement with the UNL Wildlife Club, for which he was faculty advisor.
Based on his experience watching students hone their leadership skills as members and officers in the club, Ron expressed a preference for Wildlife Club members and secondly for those enrolled in the fisheries and wildlife major.
Professor Ron Case Scholarship Helps Wildlife Club Students Reach Their Goals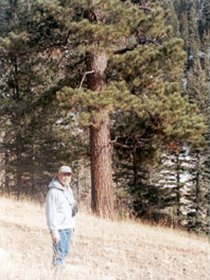 Ron Case retired in 2000 as a professor of wildlife, but he's still helping students in the University of Nebraska-Lincoln's School of Natural Resources (SNR). He continues to help them financially through a scholarship he established in the spring of 2002.
The Ron Case Scholarship assists students who are members of the UNL Wildlife Club in reaching their academic and career goals, Case said.
"I saw so many students who weren't necessarily leaders when they joined the club, and it really helped them hone their leadership skills," he said. If the scholarship helps more students to become and stay involved in the UNL Wildlife Club, Case said, it will fulfill its purpose.
Case's history of supporting students at UNL goes back to 1972, when he was hired to teach and do research in the poultry department. Out of that department evolved the former Department of Forestry, Fisheries and Wildlife, which later became a part of the SNR.
"He was probably the first true wildlife biologist that the university hired," said Gary Hergenrader, Nebraska's state forester and current director of the Nebraska Forest Service. Hergenrader was Case's supervisor at the university for 16 years. When Case wasn't teaching introductory natural resource courses and upper division courses like wildlife population biology, he was busy conducting research.
In addition to his teaching and research, Case was an advisor for the UNL Wildlife Club. He became a co-advisor shortly after his arrival at the university and eventually the main advisor, remaining involved with the club until his retirement.
"He was always very calm and a very approachable person. You could always go to him with a problem," said Luke Lionberger, a former advisee who is now the director of development at the University of Nebraska Foundation. "He was easily available to students, and I think that helped a lot of kids."
"I think the fact that he started the scholarship for them is evidence that he really cares about students." said Hergenrader.
Case was recognized for his work many times during his career. He received many awards for both teaching and advising, including awards for the L.K. Crowe Outstanding Advisor in 1991, and from the National Association of College Teachers of Agriculture in1992 and the National Awards Program for Excellence in College and University Teaching in the Food and Agricultural Sciences in 1993. He also received the Student Foundation/Builders Award for Outstanding Advising in 1993, and the Gamma Sigma Delta Teaching Award in 1994. Case was also nominated several times for exemplary service to students from the UNL Parents Association.
To qualify for the Ron Case Scholarship, SNRS students must be majoring in fisheries and wildlife. Preference will be shown to students who are active members, officers and committee chairs in the UNL Wildlife Club. Freshmen are not eligible; applicants must have completed one full year of college and have a cumulative GPA of 3.0 or higher. The $750 scholarship is awarded in the spring.
"I believe in giving back to the community, so I thought I'd do that by establishing a scholarship," Case said. "I have a strong sense of community. I want to contribute to the place where I worked and where I live.
Opportunities for Giving
Information about giving to this and other funds can be found at the NU Foundation web site.
Award Winners
Year
Recipients
2021 - 2022

Benjamin Breske

2020 - 2021

Jack Carter

Camden Oathout

2019 - 2020

Robert Gabel

2018 - 2019

Alexis Polivanov

2017 - 2018

Allyson Beard

2016 - 2017

Dakota Altman

2015 - 2016

Jenna Schweiss

2014 - 2015

Jacob Drozda

2013 - 2014

Peyton Burt

Kyle Schumacher

2012 - 2013

Jack Arterburn

2011 - 2012

Monica Keep

2010 - 2011

Amber Fandrich

2009 - 2010

Colleen Zajac

2008 - 2009

Aaron Hildreth

2007 - 2008

Jason Thiele

2006 - 2007

Trevor Schmidt

2005 - 2006

Kelly Corman

2004 - 2005

Kent Fricke

2003 - 2004

Delia Buerstetta

2002 - 2003

Keller Kopf