Meet Tanessa Morris
An Inspiration!
Tanessa Morris hails from the tiny hamlet of Patricia, Alberta, Canada. In addition to being home of Dinosaur Park, a UNESCO World Heritage Site, the community of Patricia is known for agriculture and is part of Alberta's Eastern Irrigation District. Growing up on a cattle ranch in the heart of one of the largest irrigation districts in Alberta has not only made Tanessa into a self-confessed cow whisperer but has also spawned a deep interest in hydrology and the way water works. In addition to working on a master's degree in Natural Resource Sciences with a specialization in Hydrological Sciences, Tanessa is also an NCAA Division 1 Hammer Thrower competing with the University of Nebraska-Lincoln Huskers. At the Big 10 Conference Championships in Bloomington, Indiana, Tanessa threw a season best of 62.76 metres to become the 2023 Big 10 Conference Champion in Women's Hammer Throw. This throw stands as the second-best throw in school history, and this is the first UNL Women's Hammer Throw Championship since joining Big 10 in 2012.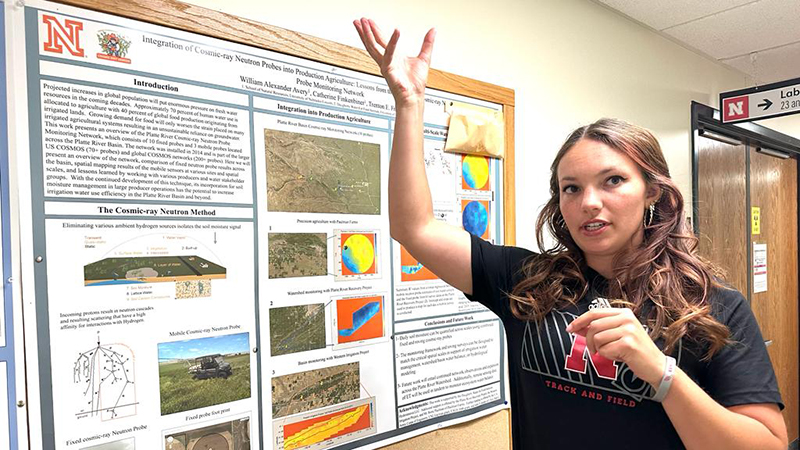 In the beginning …
"I have been involved in sports my entire life. My parents were rodeo athletes, and I naturally was involved in rodeo from an early age - pretty much from the time I was able to sit up in the saddle. In true Canadian fashion, I began playing hockey around the age of 5 but was soon enticed into figure skating by the pretty sparkly dresses. I have often told my dad that I would have kept playing hockey if he had just convinced the other coach to let him glue a few sequins on that hockey uniform. Competitive figure skating became a passion for me and at the age of 16, I moved out of province to train seriously. Unfortunately for my figure skating career, I hit a growth spurt and gravity was no longer my friend when it came to triple jumps. Fortunately, I was able to begin serious training in the throws events and dedicate the time required to develop my throwing technique. When the time for university came, I chose to attend the University of Lethbridge to train with the throws coach there. I transferred to the University of Montana in my third year to have the opportunity to compete in NCAA Division 1 throwing. I completed my two bachelor degrees in Montana and moved on the University of Nebraska-Lincoln to begin work on my master's degree and also train and compete with a very strong throws program."
Why UNL?
"A large factor in my decision to complete my master's degree at Nebraska was that I really wanted to be able to train with head coach Justin St. Clair. Coach St. Clair is a very reputable throws coach and I felt he would be able to help me progress in my throwing. I also researched the School of Natural Resources and discovered Dr. Trenton Franz on the faculty list. Dr. Franz was a Division 1 athlete while at the University of Wyoming and I was very excited to find someone that would be able to understand the training and competition time commitments of a NCAA athlete. Secondly, I discovered that Dr. Franz' research aligned with exactly what I wanted to study. After an initial Zoom meeting and the submission of my application and documents, I was officially invited to become a member of both the School of Natural Resources and the University of Nebraska-Lincoln Huskers."
Academic Pathway
"I accidentally stumbled upon my current course of study. As an undergraduate, I changed my major three times before settling on my two bachelor's degrees - BSc. in Geosciences and BA in Anthropology. Since I was so "athletics" driven, it had not really occurred to me that I would pursue a master's degree until I worked as a field research assistant in UM and found out how much I really enjoy learning. I took a hydrology class and completed an undergraduate thesis while at UM and discovered that I am very interested in water and how it moves. I had also developed a love for research and the great outdoors, so I decided that I wanted to learn more through graduate school. After my first year at UNL, I am convinced it is one of the best decisions I have ever made and I am quite sure I will extend my studies into a Ph.D program."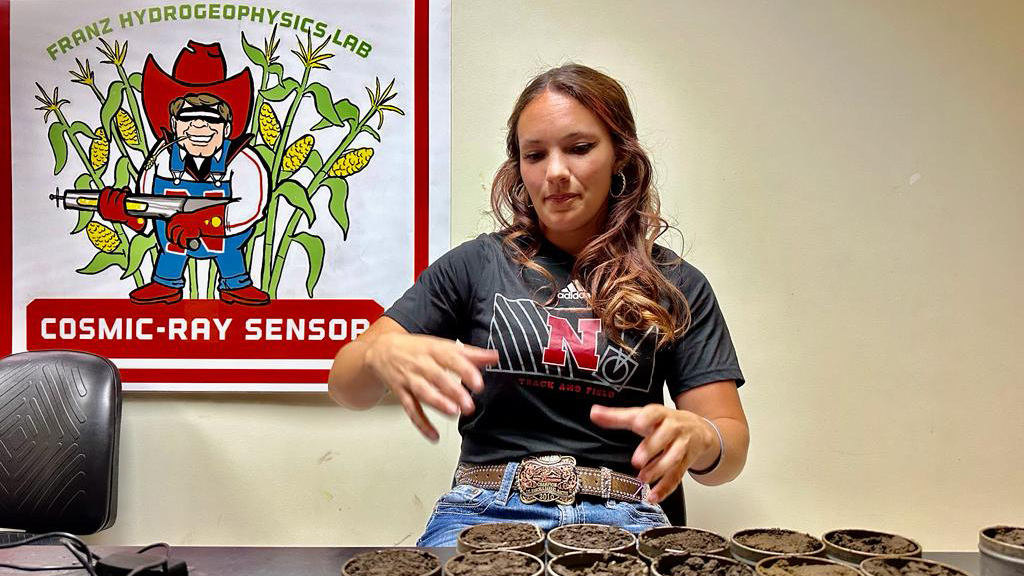 My Project
"I am studying for a Master of Science degree at the School of Natural Resources (SNR) with a specialization in hydrological sciences. It is being funded by my assistantship with SNR and I was also fortunate to secure the Chancellor's Fellowship last year. My project focuses on utilizing cosmic ray neutron sensors to determine how much water is present in soils to make more informed decisions in agricultural situations. I grew up in a very arid region of Alberta. In the 1910's, the Canadian Pacific Railway constructed the now-defunct Brooks Aqueduct to provide irrigation to entice settlers to come and settle in this part of Alberta. The area is considered a desert and agriculture is entirely reliant upon irrigation. From childhood, I have watched my family irrigate to make anything grow and would like to find a way to solve our water problem. I believe that being able to conserve water resources used for agriculture would be a huge step in the right direction towards vital overall water consumption in our world."
Conflicting Schedules …
"As a student athlete, I have travelled to 26 states in the U.S. and 6 provinces in Canada. Without being a student athlete, I would never have seen this much of this wonderful world. I have been provided with many opportunities that would not have existed if I was not good at throwing. However, being an athlete while completing university study is hectic to say the least. As a student athlete, I am practicing my throwing for at least 3 hours a day and spending an additional 2-3 hours in the weight room daily. This does not include the time spent with trainers or therapists to alleviate or recuperate injuries or strains. With my current training schedule, it is often 4:00 pm before I can spend much time at all on my school courses or research. I cannot express enough how accommodating my professors at SNR have been this year. Due to the scheduling of practices and weight room times, I have not been able to attend my regular classes. Dr. Daigh and Dr. Franz have made everything available to me online so I could watch lectures after class and complete the courses in the times that I am not training. I have been competing away at meets pretty much every weekend since January of this year. Indoor season runs from January until March, and the outdoor season runs from mid-March to mid-June. Due to this time away from Lincoln, I have learned that a student athlete has to get a great deal of work done on busses, planes and in hotel rooms to even hope to stay caught up on the academic side of things."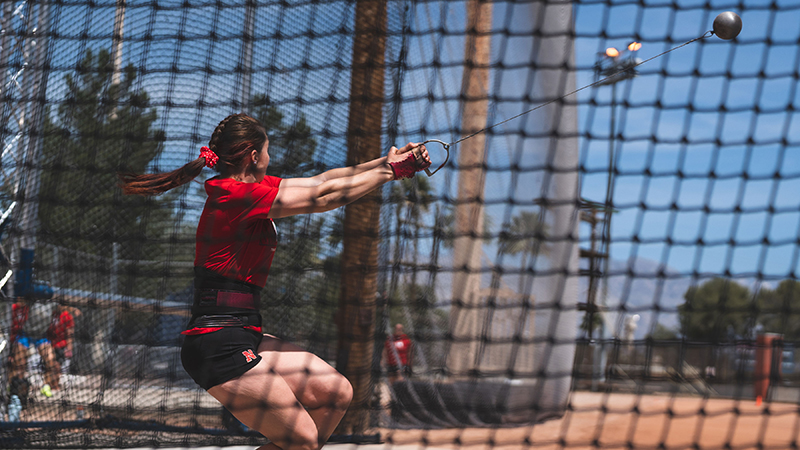 State of Depression to being an Inspiration …
"Going into the Big 10 Conference Championship, I was ranked 4th or 5th in my event. While it does not seem like this was a bad position to be in, I have struggled a great deal this season with mastering throwing technique changes that will be vital to my future success in my event. It seemed that no matter how hard I tried to master the changes and become more proficient, the results were simply not coming as expected when this season started. Along with this stress, I found I had some school projects that were stalled and going nowhere. I began to spiral into a very dark depression, and I really did not know how to make my throwing get better or where to even start on my projects. Out of desperation after another poor meet, I finally mentioned my concerns to my trainer and then to my mom over the phone. My trainer hooked me up with a sports therapist and my mom pretty much insisted that I had better get talking to someone in Lincoln or she was going to get on an airplane and fly to Lincoln to move in with me. I really did not want to find my mom standing on my doorstep, so I spoke with Coach St. Clair and told him how much I was struggling and that I was seriously considering quitting throwing. He urged me to give him two weeks to help me get back on track, so I delayed my decision to give it up. I also spoke with both Dr. Franz and Dr. Daigh, and they gave me some precious guidance on how to get things moving in the right direction on my projects. After opening up with the people that could help me, I was able to get my life back under control and the pressure in my daily life eased. I was able to focus on the things that needed to be done when they needed to be done and was also able to relax enough that my throwing began to improve just in time to be able to perform well at the Big 10 Championships. It was a proud moment for me to be the first gold medal won by the Huskers at the Big 10 Conference Meet after such a rocky season and I hope that other students in my position will take the chance to ask others for help and guidance before they give up on their dreams."
—by Jerome Okojokwu-Idu, graduate student in Natural Resource Sciences.