Southern Africa: Wildlife Conservation
Spend a month camping in the South Africa bush learning about the national history of the bushveld. The Makuleke Concession of Kruger National Park represents the diversity of modern conservation issues in Africa ? with enormous numbers of wildlife that conflict with local villages and agriculture. Students in the course will experience phenomenal wildlife and learn about the challenges South Africa faces during this period of rapid change. Previous trips have been to Botswana.
May 17 to June 17, 2024
Puerto Rico: Tropical Ecosystems
Locations: Puerto Rico
Fields of Study: Tropical Ecology
Program Highlights: Students will have the opportunity to experience the rain and dry forests, snorkel on a tropical reef and bioluminescent bay and explore the tropical rivers, underground caves and beaches of Puerto Rico. They will also visit research stations and interact with locals while observing the components of tropical ecosystems on a major island system.
Spring Break 2024
Namibia - Southern African: Wildlife Conservation
Discover and learn about the variety of ecosystems found in this southern African country. Visit landmarks like Etosha National Park, where students can see elephants, zebras and other large animals. Along the Namibian coast, students can sightsee as seals and whales swim in and near harbors.
May 21, 2024 - June 13, 2024
Larkin Powell's Youtube Channel
Visit Larkin Powell's Youtube channel about his trips to Namibia guiding students on study abroad trips.
Australia: Managing Diverse Ecosystems
Immerse yourself in Australia's bountiful natural wonders while also learning about agricultural enterprises in the Down Under. For three weeks, students learn about Australia's wildlife conservation efforts, including those to save the endangered Tasmanian devil, while exploring food industries from vineyards and lavender fields to fisheries and oyster farms.
Winter Break 2024-2025
Bahama: Marine Ecology
Explore tropical marine ecosystems for a week and gain hands-on field experience at the Bimini Biological Field Station in South Bimini, the Bahamas.
January 11-18, 2024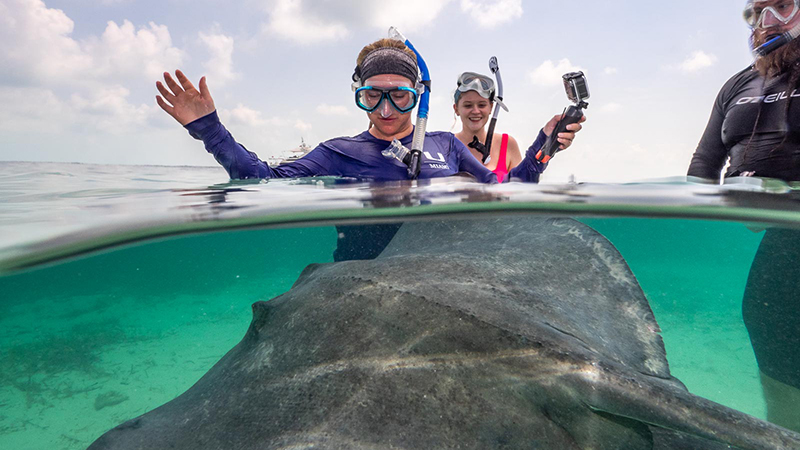 Cedar Point: Right in our "backyard"
The University of Nebraska's Cedar Point Biological Station (CPBS) is a field research facility and experiential classroom. CPBS is located off campus in western Nebraska, near Lake McConaughy and the city of Ogallala. The station sits in the heart of the western high plains near the juncture of tall grass and short grass prairie, on the south edge of the Sandhills and the North Platte River valley. The success of the Cedar Point Experience draws on the wide variety of local habitats with an abundance and diversity of flora and fauna.
You'll get to visit the beautiful Nebraska Sandhills!
You'll have the opportunity to live in rustic cabins by serene Lake Ogallala.
Class are less lecture-based and more field-based, so you spend most of your days (and sometimes nights!) outside delving into field science!
Relationships with students, TAs, and professors form fast and strong.
You get to eat three meals a day with science-minded people from undergraduates to well-known scientists where you can discuss ideas.
Complete a 4 credit course in 3 weeks or 3 credit course in 2 weeks.
It's a really amazing experience!
Classes taught at CPBS can include: Ornithology, Biology, Ecology & Evolution, Field Epidemiology, Ecological Issues in the Great Plains, and Literature & the Environment.
Beyond the Classroom