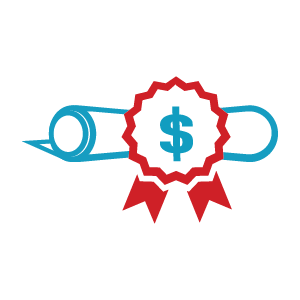 $25K in Scholarships
34 Awards Given
Annually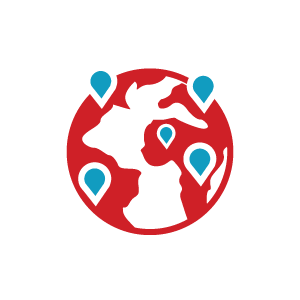 16 States
6 countries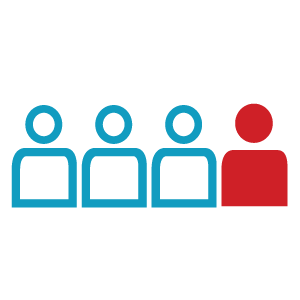 1:3 - Faculty/Student
Undergraduate
Ratio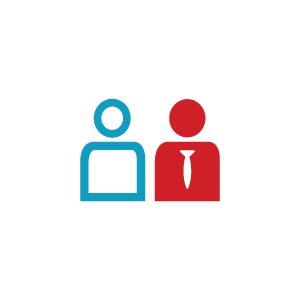 10 Undergraduate
Research Projects
25 Internships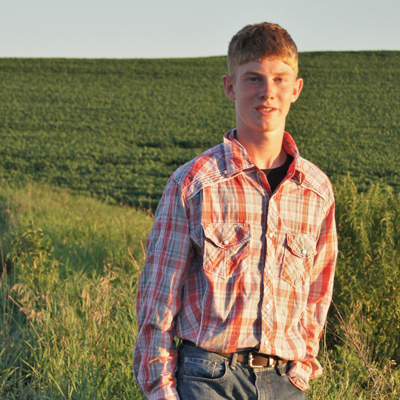 " I decided to enroll at UNL, because it was one of the only universities with this major. Since I grew up on a family farm in Nebraska, I wanted a major that integrated some agriculture classes into the degree, and I always have been interested in meteorology and climatology. So, applied climate science was the perfect fit, since the major description is how the climate impacts society as well as agricultural and natural resource systems."
"I was recruited to swim here at the University. When I took my official visit, I was not expected to be blown away by the opportunities, resources and people here at Nebraska. I was looking into engineering while visiting other universities, but I took a chance on exploring the Fisheries and Wildlife major and I am so happy I did. I had a meeting with Dr. Mark Pegg and I was truly amazed to find out that I could make a career out of doing the things I love."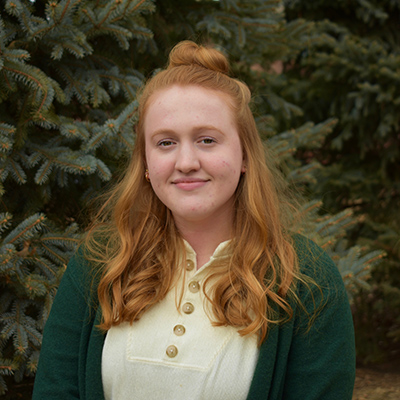 "I love how passionate the community is within SNR, both the student body and the faculty. It's amazing to hear about all the amazing things everyone stays busy with! Also, I love how many opportunities there are here. I refer to UNL as "opportunity overload," which can be overwhelming at times when it feels like there is so much to do. However, having so many opportunities is never really a bad thing. "
"Outside of classes, I am a student athlete for the Women's Rifle Team and a member of the Wildlife Club. I have participated in several of the Wildlife Club's outreach events as well as participated in several community service events around Lincoln."
"I came to the University after looking into all the research opportunities and connections to governmental agencies that Nebraska has. There is some form of University extension all around the state and its reputation for effective and meaningful research greatly interested me. "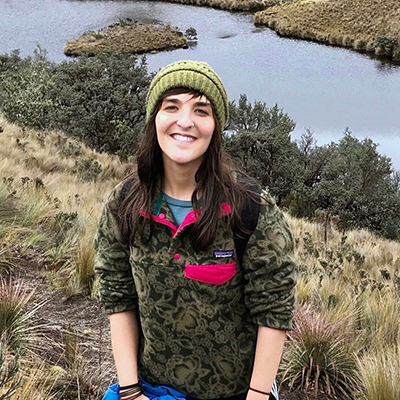 Jana is an undergraduate in Fisheries and Wildlife at UNL who recently joined the Applied Wildlife Spatial Ecology Lab in Spring of 2020. She is evaluating species richness and abundance of small mammal communities in cover crop fields and traditional agriculture fields in south-central Nebraska. This data will be used to analyze the influence of cover crop use on the biodiversity of small mammal communities. Her interests include community dynamics and wildlife conservation and management.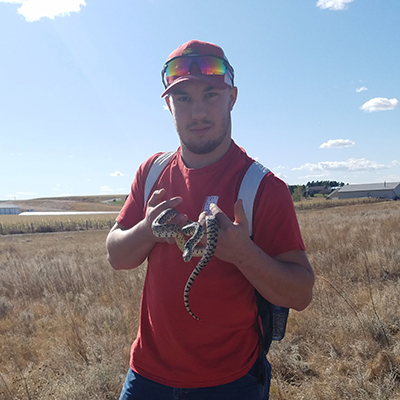 Zach is an undergraduate Fisheries and Wildlife major specializing in Conservation Biology at UNL. He is also working towards attending Veterinarian School. In the spring of 2020, he joined the Applied Wildlife Spatial Ecology Lab. His undergraduate research focuses on using a novel distance sampling technique using camera traps to estimate white-tailed deer populations. His research interests are focused in the fields of Wildlife Veterinarian Medicine and Ecological Physiology.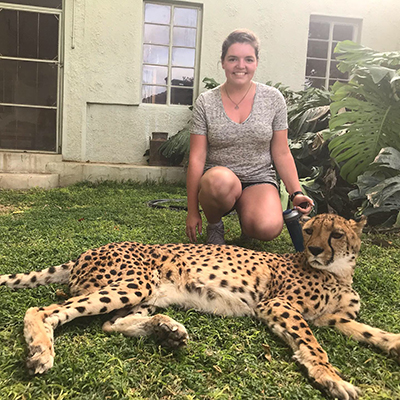 Kaitlyn is an undergraduate Fisheries and Wildlife major specializing in Wildlife Ecology and Management/Conservation Biology with a minor in Grassland Ecology and Management at UNL. In the spring of 2020, she joined the Applied Wildlife Spatial Ecology Lab. She is using camera traps and a novel spot pattern technique to monitor white-tailed deer population status in Nebraska by estimating whitetail fawn recruitment. Her goal is to take techniques proven to be successful in a forest dominated landscape and apply them in an agriculturally dominated landscape to compare success rates. Her research interests are in wildlife spatial ecology and precision conservation.
Regional and Community Forestry
As an urban forestry student at University of Nebraska, Justin lands an internship at the Nebraska Forest Service and works at the university's tree research and demonstration forest.
As an urban forestry student at University of Nebraska, Alaina lands an internship at the Nebraska Forest Service and works at the university's tree research and demonstration forest. Learn more about studying urban forestry.
Lachel puts her University of Nebraska degree to work as program development manager for the Arbor Day Foundation.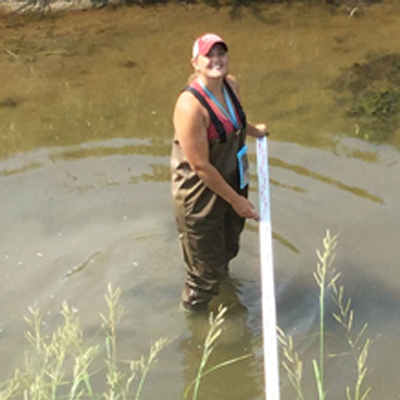 " It's been really cool that I get to do a cross collaboration between the two colleges, " Emillee said. Lachenmeier realized she liked the processes that occurred after the big storm more than the actual storm. With hydrology, Lachenmeier uses math to look at water flow amounts and values and runoff from different systems.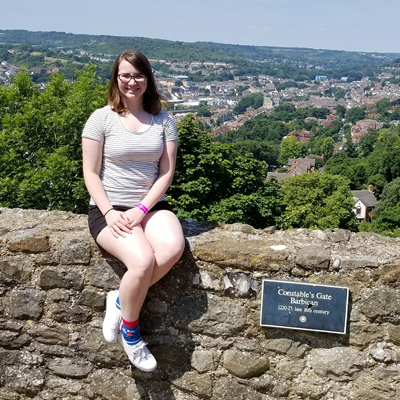 " I decided on my major before I decided which university I wanted to attend. I knew I wanted to study water science. I researched and toured several universities, but UNL was the only one that had a major in water science. I competed at State for Science Olympiad for 6 years, which is hosted on UNL's east campus. Being able to come to a place that was familiar to me made my transition experience all the better. "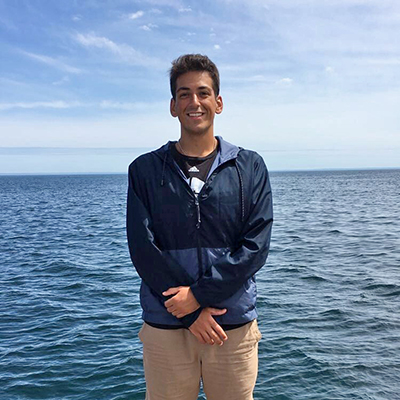 "I decided to attend Nebraska because it is one of the few colleges that offer a water science major. Water science with an emphasis in hydrology is a unique major that combines my passion for water, natural resources, math, and physics. With such a good program in my home town why go anywhere else?"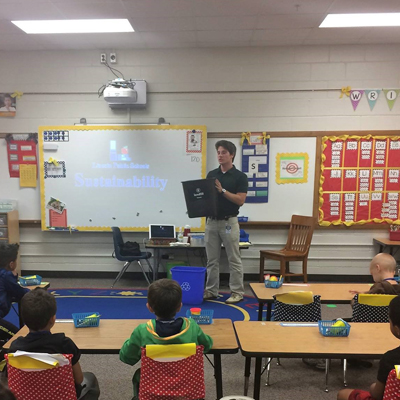 "For the past two semesters, I have had the opportunity to work as a sustainability intern for the Lincoln Public Schools district. I work alongside one other intern as well as the sustainability coordinator for the district. With this internship, I have had the chance to work on a wide array of different projects. One of the first projects I had when coming on board was teaching kindergarteners about reducing, reusing, and recycling. This was part of their science curriculum and was one of my favorite tasks. "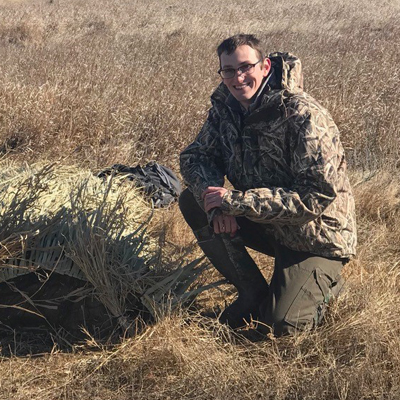 " During my time at UNL, I've had opportunities to take part in a variety of internships and research opportunities. One of my most memorable experiences has been my time spent working for the Platte Basin Timelapse Project (PBT). PBT uses various forms of multimedia to document change over time, and tell stories throughout the Platte River Basin. The project has over fifty time-lapse cameras set up across the Basin, in Nebraska, Colorado, and Wyoming. "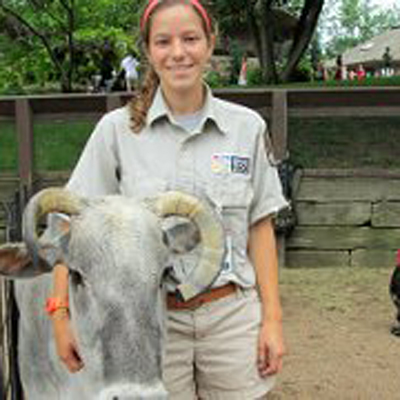 " My internship for the summer of 2013 was at the Henry Doorly Zoo in Omaha, Nebraska. My goals for the internship included training an animal, which I definitely got to do! I worked closely with lots of animals, and helped train a chicken, goats, and even worked with the North American River Otters! I enjoyed being given the freedom to work with the animals. That was so awesome, to know that the keepers trusted us and let us work with animals they know really well – they didn't make us feel like we were incapable or not responsible enough, and I greatly appreciated that. I also loved that this area was so hands on, and so varied in the number and type of animals I got to work with! Some were less touchable, like the owls and the African painted dogs, but others were handled on a regular basis, and I learned a LOT from that."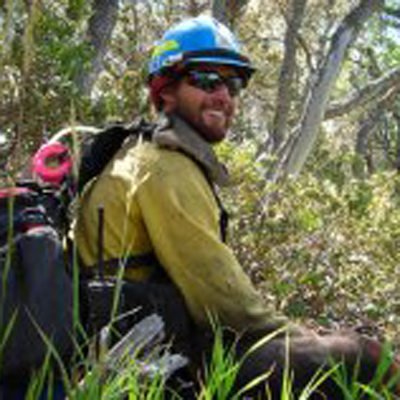 "Hi, my name is Scott Rupe. During the summer of 2014, I became employed by the U.S. Forest Service as a Wildland Fire Technician. Not only was I being hired to help suppress wildfires in northern Utah, I was also there to educate the youth on the subject of fire. During the course of the summer, I gained a great understanding of fire management through classes, hands on experience, and being engulfed in the fire environment. Overall, this career experience was very worthwhile and something I may continue to do even after I'm done with college. It really helped me find some of my interests and where I would like to end up in the future. I believe that every student should have an experience at least similar to mine. "
Each semester, students who have attained high academic achievements may qualify to be on the Dean's List. Each student on this list has earned a semester GPA of at least a 3.70 in a minimum of 12 graded hours.
Fall 2019: 71 Students
Spring 2019: 78 Students
Fall 2018: 73 Students
Spring 2018: 55 Students
Fall 2017: 56 Students
Spring 2017: 47 Students
Fall 2016: 49 Students
Spring 2016: 45 Students
Fall 2015: 37 Students