Meet Emily Nelson
Aloha! I am Emily Nelson, a going-to-be senior Fisheries and Wildlife major here in the School of Natural Resources. I am extremely fortunate to be spending this summer living and working in Hawaii. More specifically, I am living on the island of O'ahu, which contains the state capital city of Honolulu. I have been blessed with an amazing opportunity to work at the Honolulu Zoo as an instructor for the Honolulu Zoo Society's Zoo Camp! This has been an experience like no other, and I am so excited to share all about it!
For starters, none of this would have been possible if not for my Auntie, Uncle, and cousins, who have been so kind as to open their home to me for the summer. If any of you are reading this, THANK YOU for making my big dreams come true!
The School of Natural Resources places high value on work experience, and as someone who lives with passion for zoos, wildlife, conservation, and education, I realize that there could not be a better opportunity available for me. The Honolulu Zoo and the Honolulu Zoo Society offer wonderful experiences not only for children (or keiki, in Hawaiian), but also for me as a staff member. I get to educate the next generation of zoologists, veterinarians, conservationists, etc. while also learning plenty myself. I am surrounded by new cultures, languages, music, foods, customs, wildlife, ecosystems, and people who know way more about zoos than I do – and what better way to learn than this?! I have discovered new passions and deepened existing ones during my time here so far, and I cannot wait to see where the rest of the summer takes me!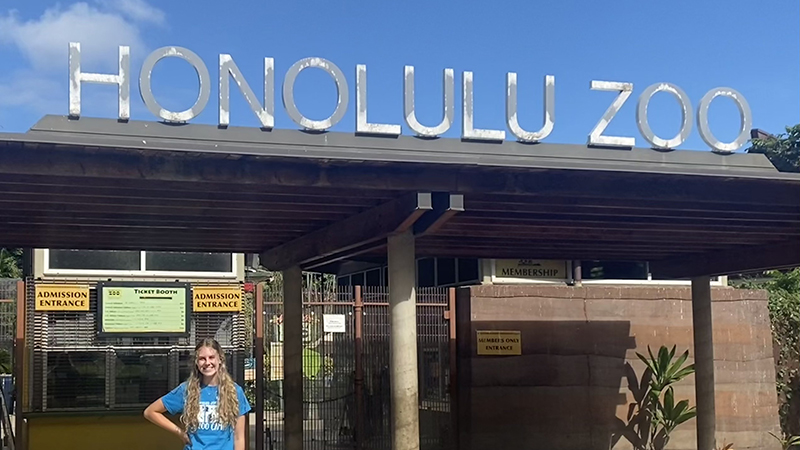 My job as a camp instructor certainly keeps me busy. I can't include photos of any kiddos for privacy purposes, but make no mistake, I spend all my time surrounded by about 22 five-year-olds who are just about as crazy about the zoo as I am. My duties are vast, from opening Hi-Chew wrappers to putting on Band-Aids to tying shoes, holding hands, and reading stories. These are just the "Auntie" tasks. Even better is when I get to be "Zoo Teacher." This part of my job includes preparing lesson plans, teaching the lessons, facilitating animal enrichment creations, giving zoo tours and talks, attending animal encounters, occasionally feeding the animals, answering endless animal-related questions, and inspiring future zoologists. Although each day is sure to bring something new, one thing remains constant: I always have the opportunity to share and expand my knowledge in the field. My days are filled with joy and laughter (kids say the craziest things!) and it is incredibly rewarding to give back to a zoo education system that changed my life.
I spend my free time and most weekends exploring and experiencing all the island has to offer. This typically means going to different beaches (a close second favorite place of mine, only behind the zoo), but I also enjoy hiking, trying out new restaurants and foods, watching my cousin compete in her weekly regattas, spending time with my family, viewing native wildlife, and generally just soaking it up as much as possible!
Although it will be very difficult to leave my island life behind me in just a few weeks, I do look forward to returning to the Good Life and rejoining my Husker family for one final year of undergrad. Go Big Red and mahalo ("thank you") for reading my story!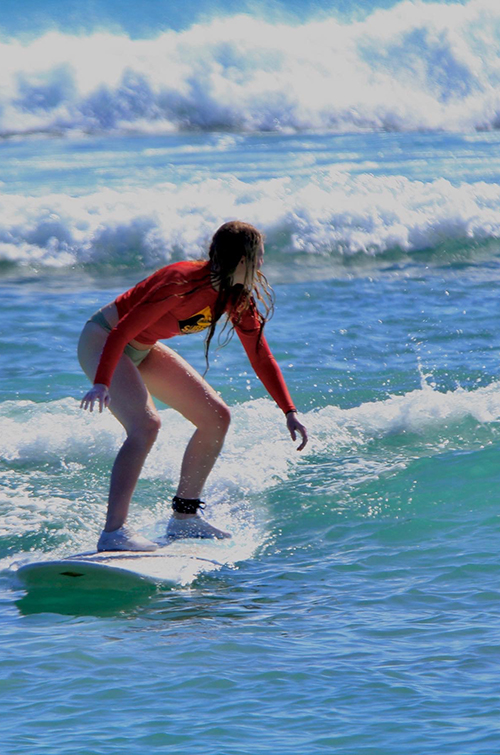 Diamond Head Crater in all its glory with an iconic Hawaiian rainbow overhead.

China Walls on the East side of O'ahu

Lanikai Beach on the windward side of O'ahu

The view from inside zoo grounds! The Honolulu Zoo sits right near the base of Diamond Head crater

This view never gets old… I will miss it very much when I leave!
Emily at the giraffe exhibit!

Posing with Scarlet and Blue-and-Gold Macaws at our bird encounter field trip!

from the top of Diamond Head crater after a morning hike!

Manoa Falls waterfall, photo taken after a morning hike through the Manoa Valley area

Hawaiian green sea turtle on Ali'i Beach on the North Shore

Hawaiian Monk Seal resting on the beach at Cockroach Cove

Hawaiian green sea turtle at Shark's Cove on the North Shore