Human Dimensions Specialization in
Natural Resource Sciences Graduate Program
Available to both MS and PhD candidates.
The Human Dimensions specialization seeks to improve the stewardship of ecosystems and natural resources by understanding and affecting people's thought and behavior toward natural and managed environments.
Environmental managers and researchers increasingly need to understand the human element—human behaviors, attitudes and needs—and incorporate these into natural resources planning. They also may be called upon to facilitate collaboration between groups, help resolve conflicts, create policies, serve as educators, and advocate for environmental issues.
This specialization offers both natural resources and social science courses to provide a well-rounded curriculum focused on human-environment interactions.
Participating faculty in other units, such as Agricultural Economics, Anthropology and Geography, Psychology, Law, and Community and Regional Planning offer a range of natural resource and social science study, allowing students to design individualized programs.
Educational goals and objectives:
Provide students a learning environment to promote an understanding of the human dimensions of natural resources, including emphases in environmental perceptions and behavior, planning, justice and law, evaluation, and economics.
Formally recognize students who have attained an advanced knowledge of the human dimensions field as part of their graduate program.
Support interactions and cooperation among the community of scientists and students working in the field of natural resources management.
Faculty Point-of-Contact
If you are interested in the Human Dimensions graduate specialization, please feel free to contact the following SNR faculty member:
Required Course (14 hours):
NRES 429/829 - Human Dimensions of Natural Resource Management (3 cr)
Select three of the following courses:

NRES 413/813 - Environmental Leadership (3 cr)
NRES 883 - Ecological Economics (3 cr)
CRPL 470/870 - Environmental Planning and Policy (3 cr)
ANTH 473/873 - Ecological Anthropology (3 cr)

Seminar (2 cr)

At least one hour from NRES 891 – Human Dimensions Seminar
Related elective courses:
AECN 840 - Applied Welfare Economics and Public Policy (3 cr)
AECN 456/856 - Environmental Law (3 cr)
AECN 457/857 - Water Law (3 cr)
AECN 868 - Advanced Resource and Environmental Economics (3 cr)
ANTH 474/874 - Applied and Development Anthropology (3 cr)
ANTH 476/876 - Human Rights, Environment, and Development (3 cr)
CIVE 916 - Interdisciplinary Seminar in Engineering: Economic and Legal Aspects of Water Resources (1-4 cr)
CRPL 477/877 - Recreation and Park Planning (3 cr)
GEOG 400/800 - Seminar in Great Plains Studies (3 cr)
GEOG 431/831 - Cultural Geography
GEOG 444/844 - Geo-demographics and GIS (3 cr)
GEOG 902 - General Seminar
GEOG 935 - Seminar in Historical Geography (3 cr)
GEOG 940 - Seminar in Human Geography (1-9 cr)
MNGT 865 - Organizational Theory and Behavior (3 cr)
MNGT 876 - Strategic Management (3 cr)
NRES 823 - Integrated Resources Management (3 cr)
NRES 424/824 - Forest Ecology (4 cr)
NRES 428/828 - Leadership in Public Organizations (3 cr)
NRES 435/835 - Agroecology (3 cr)
NRES 848 - Advanced Topics in Wildlife Damage Management (2 cr)
NRES 452/852 - Climate and Society (3 cr)
NRES 475/875 - Water Quality Strategy (3 cr)
NRES 884 - Water Resources Seminar (1 cr)
NRES 891 - Seminar in Natural Resources (2-3 cr)
NRES 897 - Career Experiences in Natural Resource Sciences (1-6 cr)
NRES 916 - Environmental Law & Water Resources (1-4 cr)
NRES 922 - Seminar in Geographic Information Systems (3 cr)
POLS 831 - Core Seminar in Public Policy and Process (3 cr)
PSYC 993 - Seminar in Program Evaluation (3 cr)
SOCI 441/841 - Social Psychology (3 cr)
SOCI 446/846 - Environmental Sociology (3 cr)
LAW 641G - Environmental Law (1-4 cr)
LAW 776G - Water Law, Planning and Policy (1-4 cr)
Please see our admission requirements and application procedure pages for more information about our admission and application expectations for graduate degree candidates.
The importance of understanding human behavior in the conservation, management and restoration of natural resources, ecosystems and the environment has led to a greater emphasis on interdisciplinary and integrated research. For this reason, opportunities in business, government and non-governmental organizations have increased at all levels.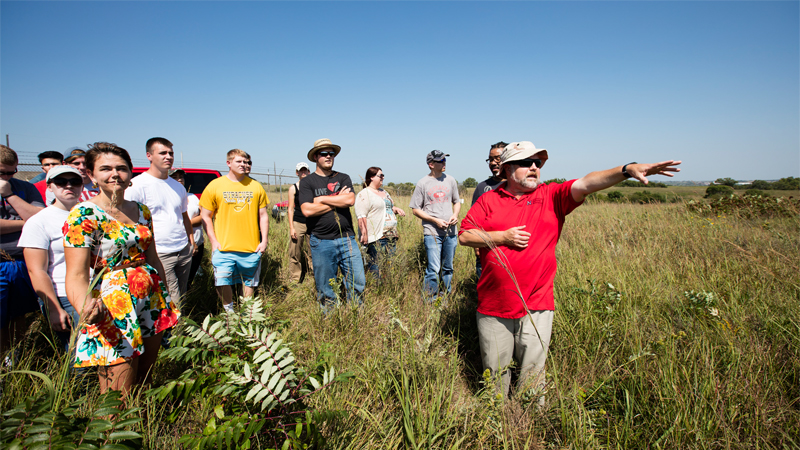 Nebraska Water Leaders Academy
JoLeisa Cramer, with camera, assists with a Water Leaders Academy tour of a Platte River Recovery Implementation Program project.

JoLeisa Cramer leads a discussion at a session of the Nebraska Water Leaders Academy.

Water Leaders Academy participants listen to Glenn Johnson, far left, General Manager of the Lower Platte South Natural Resources District, describe the Antelope Valley Flood Control Project.

Water Leaders Academy participants discuss water policy issues.

– Water Leaders Academy participants listen to John Lawson, US Bureau of Reclamation (retired), describe the Whalen Diversion Dam on the Platte River.
Images courtesy of Mark Burbach