Starting in fall 2019, students at the University of Nebraska-Lincoln can earn a minor in urban forestry, a career field that promises to be one of the fastest growing as environmental issues threaten our trees. Students will graduate prepared for the challenges ahead and ready to build successful careers in urban forestry, arboriculture, natural resource management, and green infrastructure.
In our classes, students learn the basics of tree biology, but also how to complete site assessments, manage pests and think strategically about urban forest management — so that management decisions benefit both humans and the environment without harm. Our labs offer students hands-on resume-building experience climbing trees, measuring tree performance, and learning proper chain saw techniques.
Our minor also emphasizes the importance of experiential learning through internships. Our partners – Forest Service, Arbor Day Foundation, and Davey Tree Company, to name a few – work closely with us to ensure students have additional opportunities to set themselves apart from the competition.
Be a leader in modern tree care by studying urban forestry at the School of Natural Resources.
Future Major
A degree in Regional and Community Forestry is being developed by the School of Natural Resources in partnership with the Department of Agronomy and Horticulture, and in collaboration with the Nebraska Forest Service, with funding from the U.S. Forest Service. The program, expected to be approved in 2020, will address current and future issues related to rural and urban forestry, including global urbanization and movement of invasive species.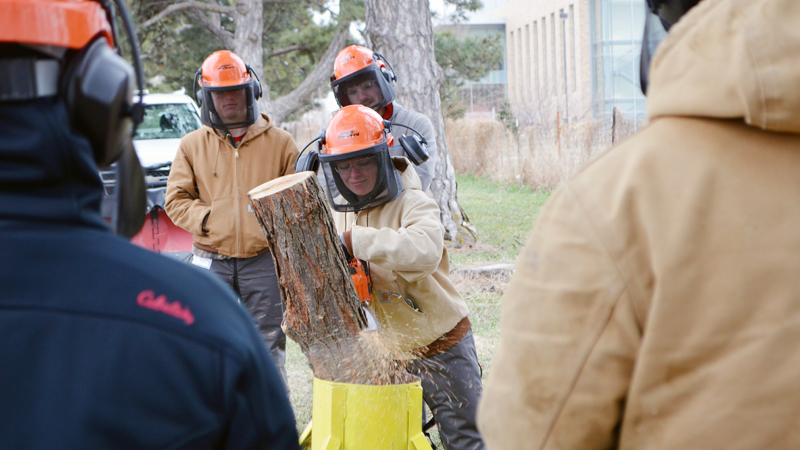 Our students can now earn a minor in urban forestry. Of the credit hours students take to earn a degree, urban forestry students are required to take dendrology or landscape plants; tree biology; arboriculture; and greenspace and urban forestry management. Did we mention you learn how to use a chain saw? Learn more about our complete course requirements. See our complete course recommendations.