Bio-Atmospheric Interactions Specialization in
Natural Resource Sciences Graduate Program
Available to both MS and PhD candidates.
The Bio-Atmospheric Interactions specialization provides students with a unique learning environment to promote an understanding of the interactions between the atmosphere and the biosphere. This specialization encourages cooperation among the community of scientists within the bio-atmospheric research area.
A related graduate degree program in Agronomy & Horticulture has a specialization in Agricultural Meteorology and selected faculty from the School of Natural Resources can advise potential students.
The study of bio-atmospheric interactions involves describing the state of the environment (atmospheric, vegetation and soil) by addressing mass (e.g., carbon, water vapor) and energy (radiative and heat) exchange between the biosphere and atmosphere. This understanding is useful to studies of biogeochemistry, atmosphere, remote sensing, hydrology and ecology. Measuring and modeling of the mass and energy fluxes is essential to understanding bio-atmospheric interactions.
The objectives of the specialization include:
To understand the physical and biological processes that control energy and mass fluxes between the biosphere and the atmosphere (photon transfer through vegetation, evaporation, photosynthesis, plant and soil respiration, stomatal control, turbulence)
To quantify temporal variations in fluxes
To understand the variation in fluxes across spatial scales from leaf, canopy and field level, horizontally and vertically.
Faculty Point-of-Contact
If you are interested in the Bio-Atmospheric Interactions graduate specialization, please feel free to contact the following SNR faculty member:
Admission Requrements
minimum of 12 graduate credit hours in bio-atmospheric interaction courses approved by student's supervisory committee
Required (9 hours):

NRES 808 - Microclimate: The Biological Environment
Six (6) additional hours in NRES bio-atmospheric interactions courses:

NRES 907 - Agricultural Climatology
NRES 869 - Bio-Atmospheric Intstrumentation
NRES 852 - Climate and Society
NRES 906 - Crop Growth and Yield Modeling
NRES 867 - Global Climate Change
NRES 808 - Microclimate: The Biological Environment
NRES 854 - Regional Climatology
NRES 908 - Solar Radiation Interactions at the Earth's Surface
NRES 954 - Turbulent Transfer in the Atmospheric Surface Layer

Undergraduate or Masters level course work may meet some of the course requirements listed above. However, the student wishing the bio-atmospheric interactions specialization is still required to take a minimum of nine hours of graduate level climatology, meteorology, biology, hydrology, remote sensing, GIS, or others courses related to bio-atmospheric sciences.
thesis or dissertation research topic in Bio-Atmospheric Interactions
In addition to the SNR's minimum admission requirements, the student should have an appropriate science background. This minimum background should include 2 semesters of calculus and 2 semesters of physics.
Please see our entrance requirements and application procedure pages for more information about our admission and application expectations for graduate degree candidates.
Students with this specialization may find employment in teaching, research or applied fields. Possible jobs for students completing the program include:
secondary-level teacher
atmospheric specialist
private sector, particularly micrometeorological instrumentation companies
research project assistant working with

biogeoscientists
atmospheric and climate scientists
remote sensing scientists
hydrological scientists
ecologists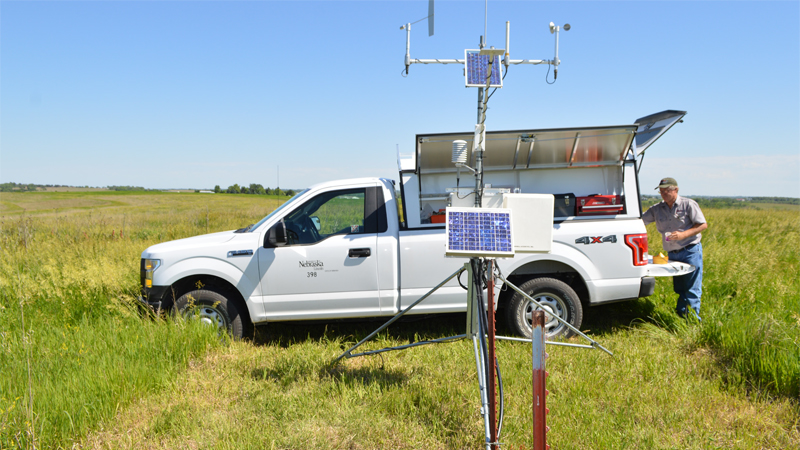 Carbon Science and Modeling Program
Micrometeorological measurements at AmeriFlux US-Ne3 near Mead, Nebraska. Scaffolding for D-Flox and …. fluorescence measurements and Decagon PRI and NDVI sensors(foreground); radiation mast with net radiometer, Skye sensors, canopy camera, and incident and outgoing PAR; and eddy covariance tower (background).

Tower eddy covariance and supporting environmental sensors measuring hourly exchange of carbon dioxide, water vapor, sensible heat, and momentum. Measurements have been collected continuously since 2001 to study carbon sequestration of maize-based agro-ecosystems under different management practices.

Radiation mast instrumentation for measuring incoming and outgoing PAR, net radiation, canopy reflectance in green, red, red-edge and NIR with Skye 4-band spectroradiometers

Soil moisture sensor that measures soil moisture over a 700 m diameter area to a depth of up to 50 cm at the rainfed Carbon Sequestration field site.

Leaf chlorophyll measurements using a SPAD meter at AmeriFlux US-Ne3 near Mead, Nebraska.

Gunnar Malek-Madani (Masters student) and Dr. Timothy Arkebauer (Agronomy and Horticulture) measure leaf reflectance at AmeriFlux US-Ne2.