Hydrological Sciences Specialization in
Natural Resource Sciences Graduate Program
Available to both MS and PhD candidates.
SNR's Hydrological Sciences program, a specialization within the Natural Resource Sciences graduate program, aims to train the next generation of scientists studying the hydrologic cycle, its components and processes, and its complex interactions with human societies. Faculty and students in this specialization explore a broad range of hydrological topics including:
Atmospheric moisture transport
Surface and vadose zone hydrology
Groundwater hydrology
Hydrogeology
Limnology
Wetland management and recovery
Water quality and biogeochemistry
Isotope hydrology
Contaminant transport and remediation
Environmental geophysics and hydrogeophysics
Remote sensing of the water cycle
Hydrologic modeling and forecasting
Ecohydrology
Hydroinformatics and integrated hydrology
Faculty and graduate students in this specialization incorporate field and laboratory research techniques to answer basic and applied hydrological questions in Nebraska and across the globe.
Expose students to inter- and transdisciplinary approaches to studying topics from across the hydrological continuum and facilitate research across the many spatial and temporal scales that hydrological processes operate.
Formally recognize the academic achievement and experience of students who have attained advanced knowledge of hydrologic sciences.
Provide students with opportunities to engage with the broader water science community including engineers and innovators within academic, public and private sectors
Faculty Point-of-Contact
If you are interested in the Hydrological Sciences graduate specialization, please feel free to contact the following SNR faculty member:
Admission Requirements
Please see our entrance requirements and application procedure pages for more information about our admission and application expectations for graduate degree candidates.
Graduation Requirements
Thesis or dissertation in hydrologic sciences.
Coursework – 20 to 24 hours total coursework from a and b belo

Required (minimum 10 hours) [equivalent courses may be substituted if approved by student's advising committee and the SNR graduate committee];

NRES 807 Plant-Water Relations (3)
NRES 851 Soil Environmental Chemistry (3)
NRES 853 Hydrology (3)
NRES 859 Limnology (4)
NRES 884 Water Resources Seminar (1)
NRES 879 Hydroclimatology (3)
NRES 875 Water Quality Strategy (3)
NRES 898 Special Topics (1-6)
AGRO 879 Applied Soil Physics (3)
CIVE 856 Surface Water Hydrology (3)
GEOL 818 Chemistry of Natural Waters (3)
GEOL 988 Groundwater Modeling (3)
STAT 801 Statistical Methods in Research (4)

Select remaining courses from related elective courses (examples given below) [equivalent courses may be substituted if approved by student's advising committee and the SNR graduate committee]:

NRES 802 Aquatic Insects (3)
NRES 802L Aquatic Insects Lab (1)
NRES 808 Microclimate: The Biological Environment (3)
NRES 812 Introduction to Geographic Information Systems (4)
NRES 818 Introduction to Remote Sensing (3)
NRES 820 Applied Remote Sensing (4)
NRES 821 Field Techniques in Remote Sensing (3)
NRES 855 Soil Chemistry and Mineralogy (3)
NRES 860 Soil Microbiology (3)
NRES 863 Fisheries Science (3)
NRES 864 Fisheries Biology (3)
NRES 869 Bio-Atmospheric Instrumentation (3)
NRES 877 Great Plains Field Pedology (4)
NRES 889 Ichthyology (3)
NRES 891 Seminar in Natural Resources (1)
NRES 896 Independent Study (1-5)
NRES 898 Special Topics (1-6)
NRES 916 Environmental Law and Water Resource Management Seminar
NRES 950 General Seminar (must be in a water-related topic)
NRES 996 Research other than thesis hours (1-6)
AECN 841 Environmental Law (3)
AECN 857 Water Law (3)
AECN 865 Resource and Environmental Economics (3)
AGEN 841 Animal Waste Management (3)
AGEN 853 Irrigation and Drainage Systems Engineering (3)
AGEN 953 Advanced Irrigation and Drainage Systems Engineering (3)
BSEN 855 Nonpoint Source Pollution Control Engineering (3) [CIVE855/455]
BSEN/NRES 954 Small watershed hydrologic modeling
BSEN 892 Special Topics
CIVE 828 Environmental Engineering Chemistry (3)
CIVE 830 Fundamentals of Water Quality Modeling (3)
CIVE 852 Water Resources Development (3)
CIVE 858 Groundwater Engineering (3)
CIVE 958 Groundwater Mechanics (3)
GEOL 824 Biogeochemical Cycles (3)
GEOL 850 Surficial Processes and Landscape Evolution (3)
GEOL 870 Field Methods in Hydrogeology (3)
GEOL 986 Contaminant Hydrogeology (3)
MATH 821 Differential Equations (3)
MATH 823 Complex Analysis (3)
MATH 824 Introduction to Partial Differential Equations (3)
METR 811 Dynamic Meteorology I (3)
METR 823 Physical Meteorology (4)
METR 841 Synoptic Meteorology (4)
MSYM 852 Irrigation Systems Management (3) [HORT852/452; WATS452]
STAT 802 Experimental Design (4)
STAT 880 Introduction to Mathematical Statistics (3)
There are many career opportunities in a wide range of areas in the hydrological sciences. Graduates with this specialization work in industry, higher education, consulting firms, environmental groups, and federal, state and local agencies. Job possibilities include, but are not limited to:
Hydrology
Hydrogeology
Water resource management
Watershed management
Water policy and planning
Aquatic ecology
Water quantity
Water quality
Groundwater/surface-water modelling
Wetland restoration
Environmental remediation
Water analytics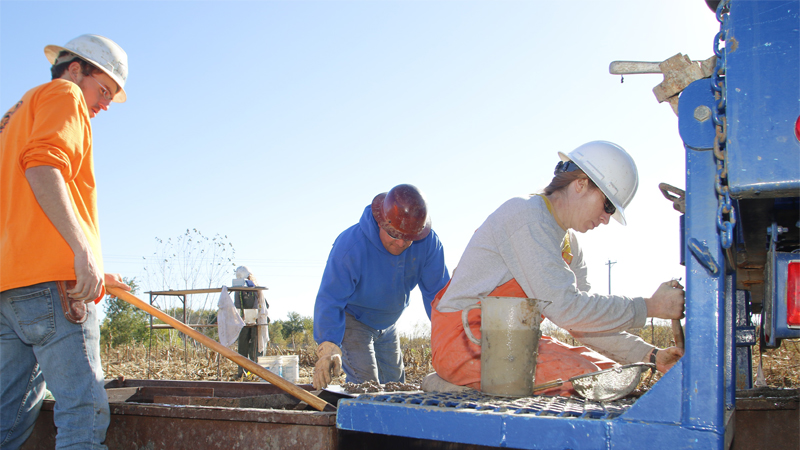 Research Projects by Hydrological Sciences Students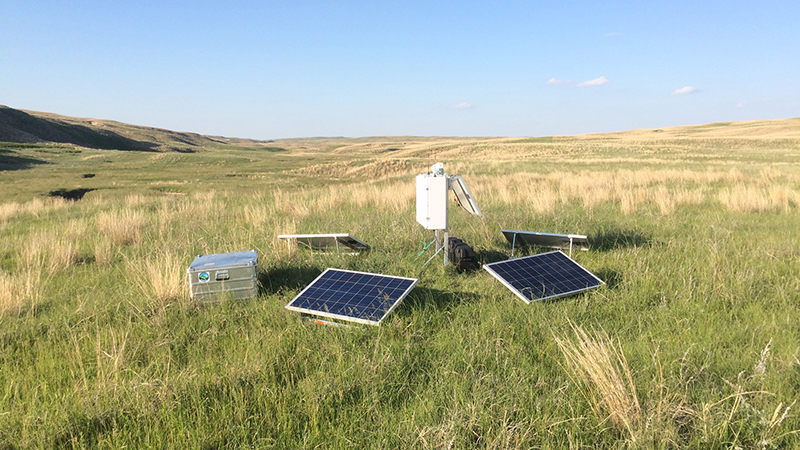 Assembled fiber-optic distributed temperature sensor (FO-DTS) on Gudmundsen Sandhills Research Laboratory. FO-DTS is a technique that uses fiber-optic cable deployed on a streambed to sense groundwater discharge into surface water. Continue the story....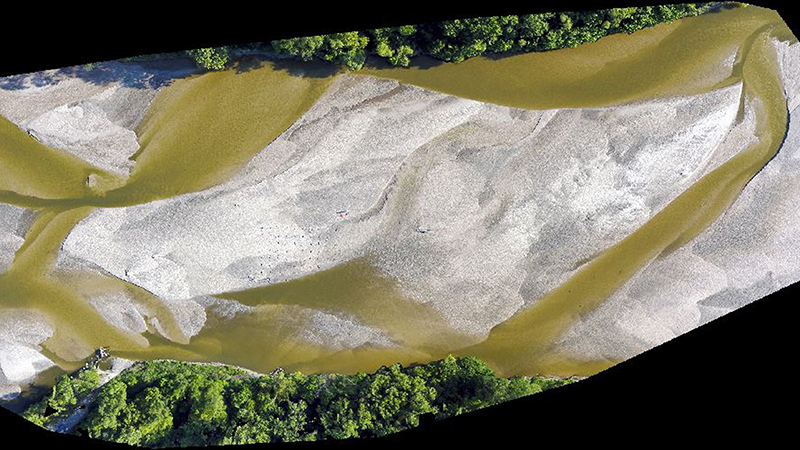 Drone imagery was used to monitor changes in stream geomorphology over time. This research project investigated processes responsible for hydraulic conductivity transience in sandy rivers. Continue the story....